Unlimited Filters
Create unlimited store categories & filters. Assign stores via import files and let your users live filter with ease.
Customizable
Configure what store data you want to show, create custom store locator layouts & apply custom map stylings to adapt the design to your theme.
Unique Features
Single store pages, Excel im- & exports, custom icons, search for store and nearest shop shortcodes. This is what makes our plugin unique.
The only WP Store Locator Plugin you need
You can stop searching. If you need a comprehensive store locator plugin for your WordPress website, then you should get ours. The key benefits why you should get our plugin:
Integrated Excel im- and export
CF7 contact store forms
Single store pages
Search for store teaser shortcode
Unlimited options & styling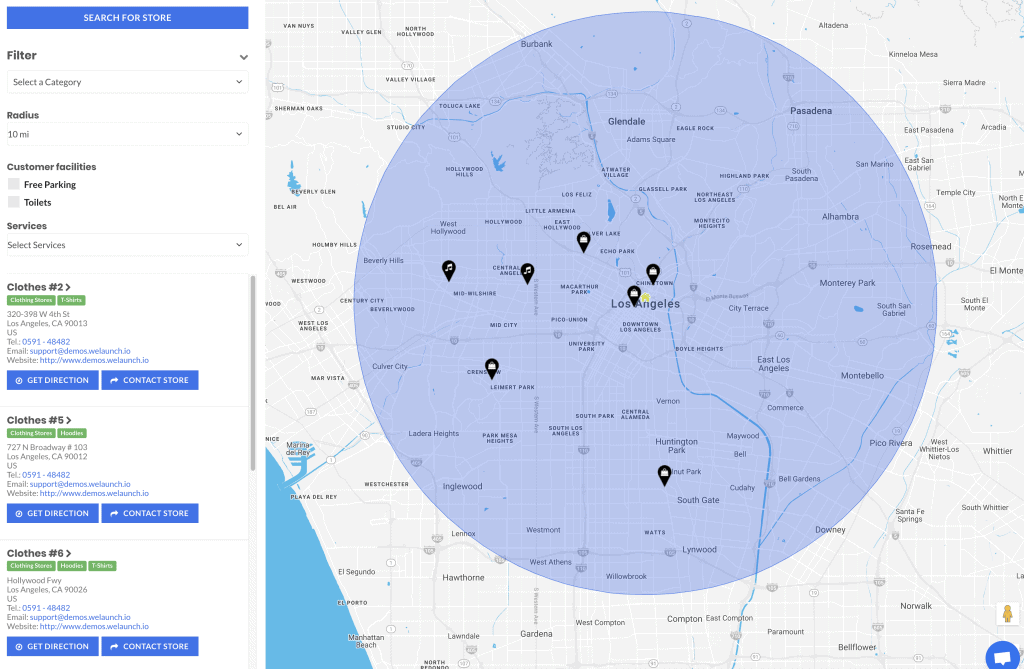 Help Consumers find your store
If your WordPress website is linked to a real-world retail brand, you need an intuitive WordPress store locator.
86% of online consumers use the Internet to find local businesses. To help consumers find your store, WordPress Store Locator works with Google Maps to convert online site visits into real-world foot traffic. As a WordPress map plugin, WordPress Store Locator provides site visitors with an easy way to filter stores by location, product availability, and physical store opening hours.
View Store Locator Demo
WP Store Locator Map Styles & Customization Options
WordPress Store Locator makes it easy to sell more offline. Integration with Google Maps Styling Wizard, allows e-commerce store owners to import or create hundreds of different map styles. Site admins can also use custom icons to represent different store types, as well as customize how map pages load and what information is presented to visitors.
Use different WordPress Store Locator icons to represent different store types
Set custom page loading icons specific to your brand
Set WP Store Locator to filter stores by location, distance, or alphabetically
Configure WordPress Google Maps to automatically increase a search radius when no stores are found in a users immediate location
Using WordPress Store Locator, site admins have full control over what information is displayed on map pages, as well as how information is presented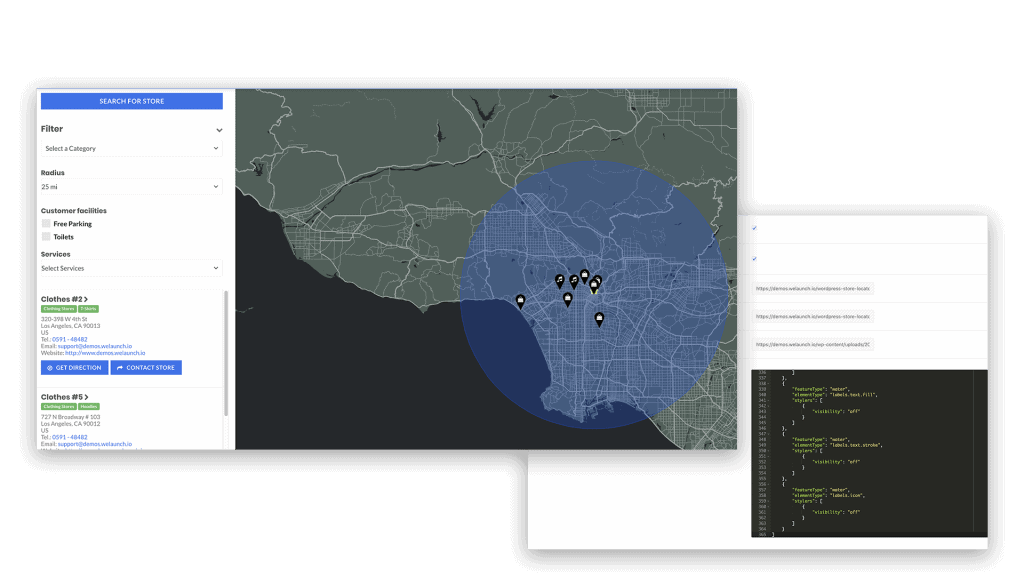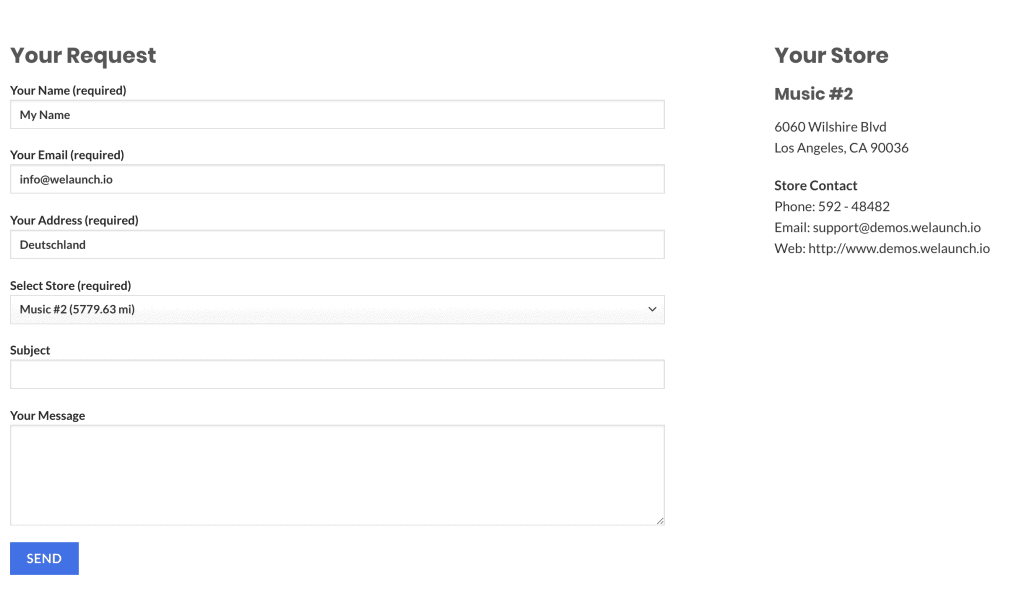 Individual Store Contact pages
Single stores can be configured to appear on their own pages. This improves local SEO. At the same time, custom action links and contact forms can be used to boost real-time conversions.
After searching for stores via different locations and product categories, website visitors are presented with physical store opening hours. Just like with Google Maps, visitors can then click action links to get directions to different stores.
Slightly different from standalone WordPress map plugins, WP Store Locator can be configured to allow users to contact stores directly. Static contact information can be displayed on store pages, or visitors can make use of store specific contact forms.
View Contact Store Demo
Single Store pages
Our plugin creates single pages for each store you have published. With this feature you can easily share single store URLs, get more info what stores your users find and increase SEO visibility.
View Single Store Demo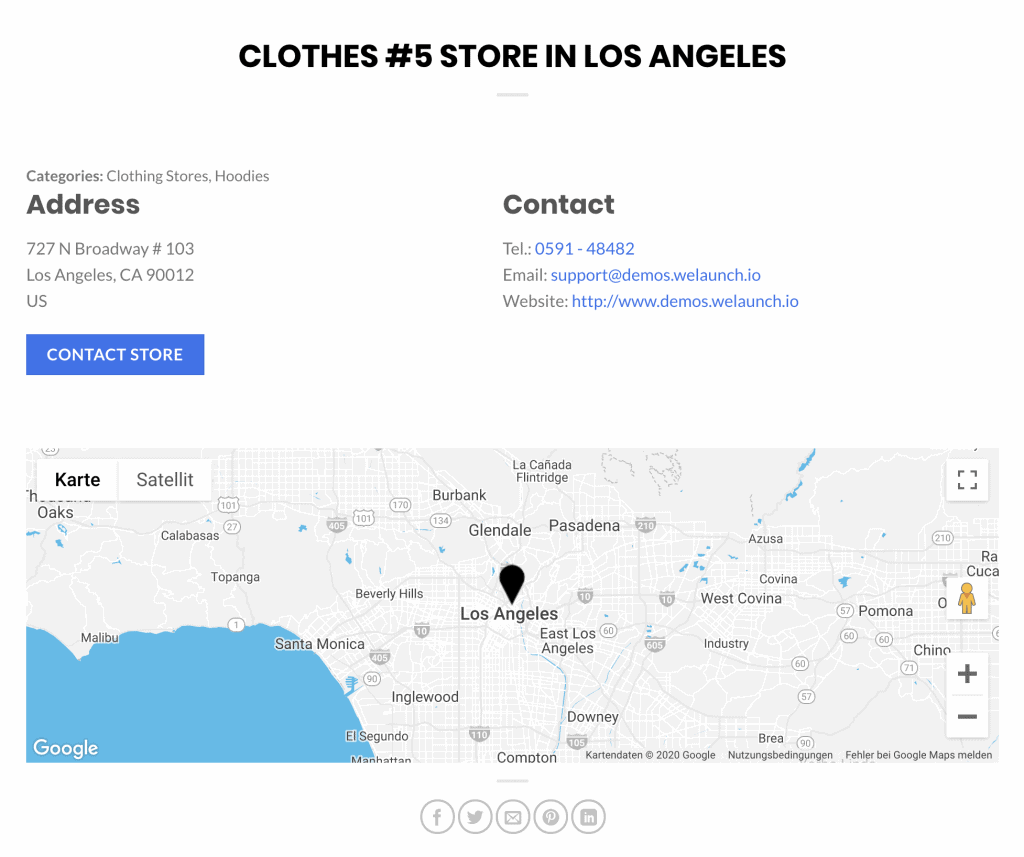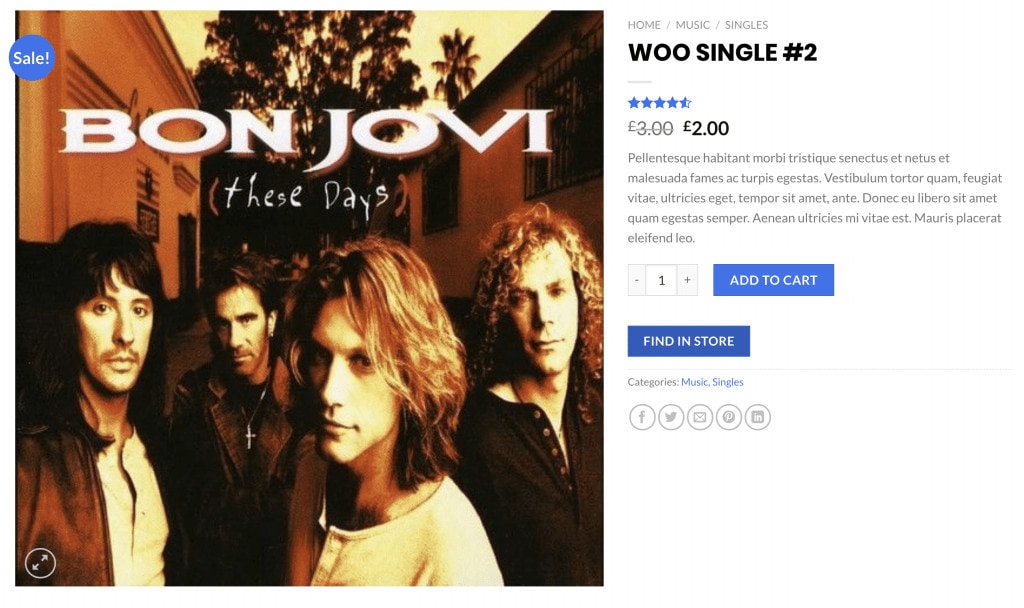 WooCommerce Support
Show a find in store button in WooCommerce single product pages to increase offline sales. The button will open the store locator in a modal view. If product categories are connected to store categories, the filters will be preselected.
View Product Page Demo
WP Store Locator Categories & Filtering
WordPress Store Locator uses a simple to manage back office which allows site owners to set several different store filtering options. Allow site users to filter real-world stores by the availability of different product categories. Alternatively, enable plugin users to filter store locations by the availability of various facilities such as parking and restroom access.
Where stores make available several product lines and provide access to other amenities, premium store icons can be set to grab consumers attention.
View Search for Store Demo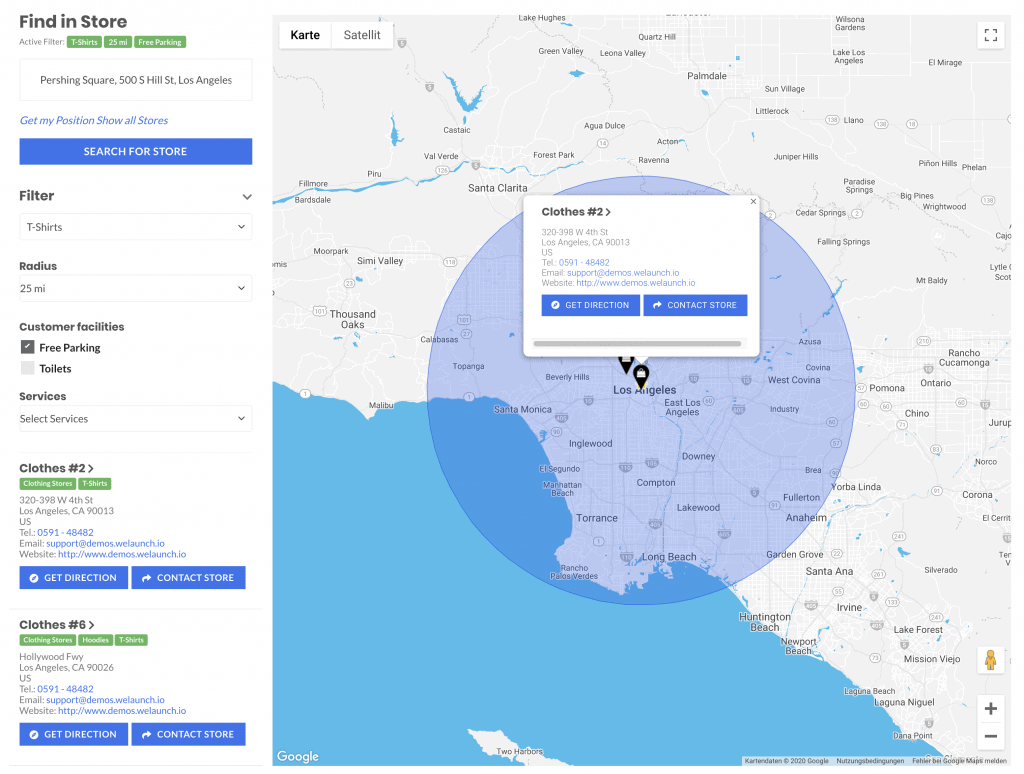 AJAX Filtering
WordPress Store Locator uses AJAX filtering and embedded shortcodes to load several content elements simultaneously.
With just a few mouse clicks, site visitors can quickly navigate through several different information fields. Map widths and content block placements in WP Store Locator can also be custom arranged to suit specific brands and provide more intuitive navigation experiences.
View Filter Demo
Buy WordPress Store Locator Today
WordPress Store Locator is the most intuitive WordPress Google Maps plugin currently on the market. Download now, or test drive Free WordPress store locator Demo.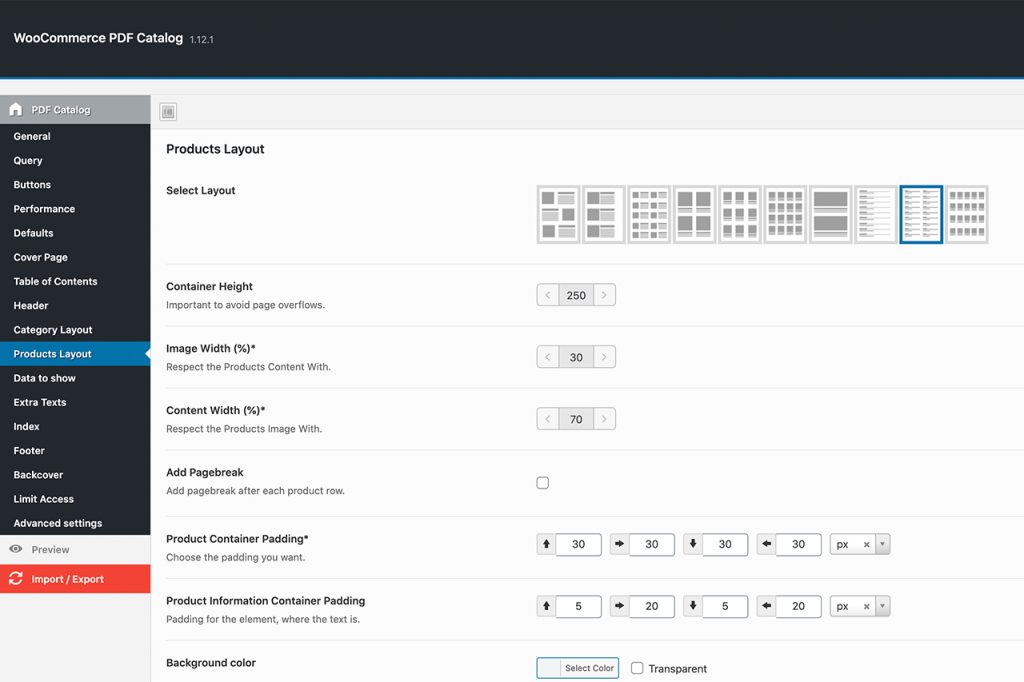 Automatic Radius Increasing
Default Radius & Steps
You can define the radius steps and of course the default radius just as you like.
Sorting
Sort your stores by distance, premium stores or alphabetically. You can choose!
WooCommerce Integration
Do not loose offline customers. Enable a store locator modal directly on WooCommerce product pages, that automatically apply the correct category filters.
Custom Loading Icon
Set a custom loading icon and size for your needs.
Premium stores
Highlight premium stores with a special icon.!
Autocomplete Restrictions
Restrict the Autocomplete to custom countries and to custom types (like city, region etc.). Never loose customers searching for a zip and getting a street.
Default Values
Set default values before creating stores manually (like opening hours or the country) and save time.
Layout customizations
Set a custom Result list and map width. Choose where you want the blocks to the displayed (right sidebar, left sidebar, below or above the map). You can even disable the complete map or result list.