Country Selector Modal
The modal popups up if you have a website for the user's country. The user can then decide if he wants to visit the website in his country or stay on current page. To not annoy your visitors the users decision will be saved in a cookie.
Country Selector Page
Show off your all your countries websites on a country selector page. Enable filtering for continents and if you want to show flag or country icon.
Redirect Users
Instead of showing a modal you can also redirect users automatically to the correct country page. Directly or after an amount of seconds – depends on what you need.
Guiding site visitors to country specific pages
Using a WordPress Country Selector is vital when managing e-commerce platforms which cater differently to different international consumers.
Product availability and payment gateways differ on almost every WordPress multisite. WordPress Country Selector, therefore, uses fast loading popups to guide users to country-specific home and product pages. This prevents shopping carts from being abandoned, by guiding site visitors to country-specific pages, content, and pricing information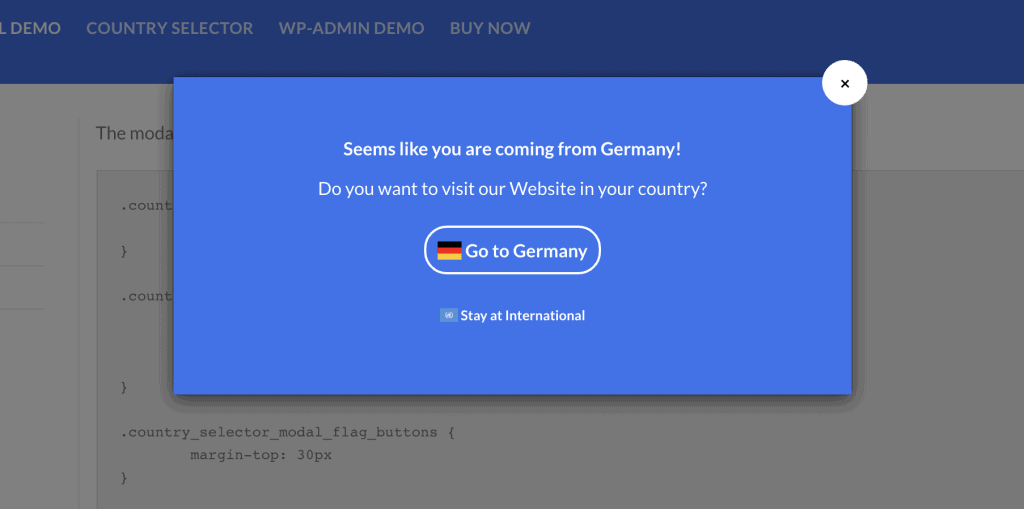 Simple WordPress Country Selector Popup
How the WordPress Country Selector plugin works is simple. After arriving on landing or product pages for the first time, a fast loading popup draws users attention to the availability of different WordPress country pages. Site visitors can then elect to visit local pages or continue browsing international site pages.
View Demo
Easy to Configure WordPress Country Select Pages
WordPress Country Selector can be configured to redirect visitors to country-specific pages automatically. Alternatively, different country pages can be selected from a multisite country selection area.
In country selection areas, site admins can list each geographic area where country-specific pages are available. This allows site visitors to select their own country, or (in mind of shipping) the nearest country to them. WordPress country pages can also be configured in three different, easy to navigate page styles.
Easily showcase all the countries where your site serves local content
Allow users to filter country pages by clicking on continents
Opt to display flags beside country pages to bridge language barriers
Should a country-specific page not exist, users can select international website versions as a fallback option.
View Demo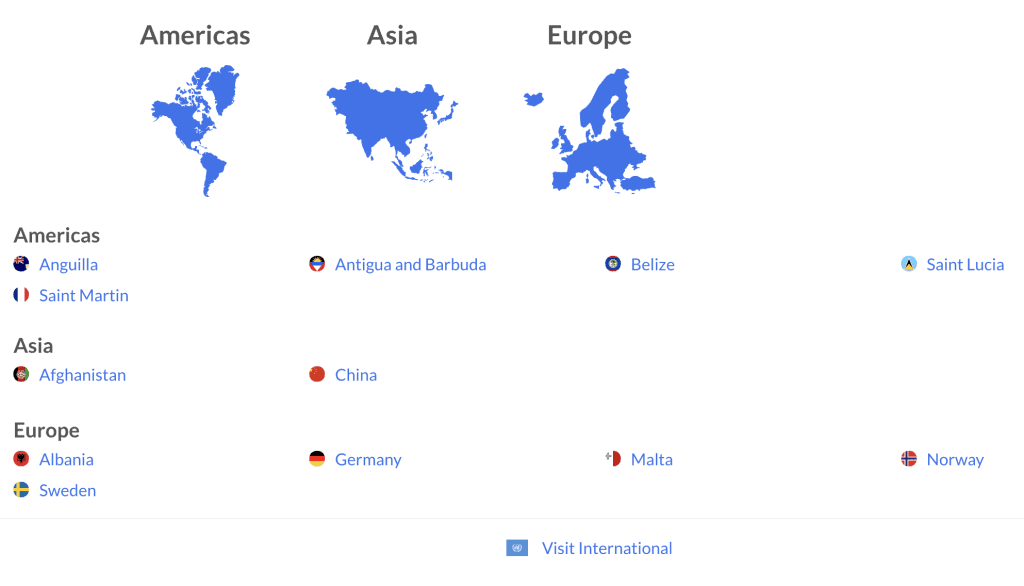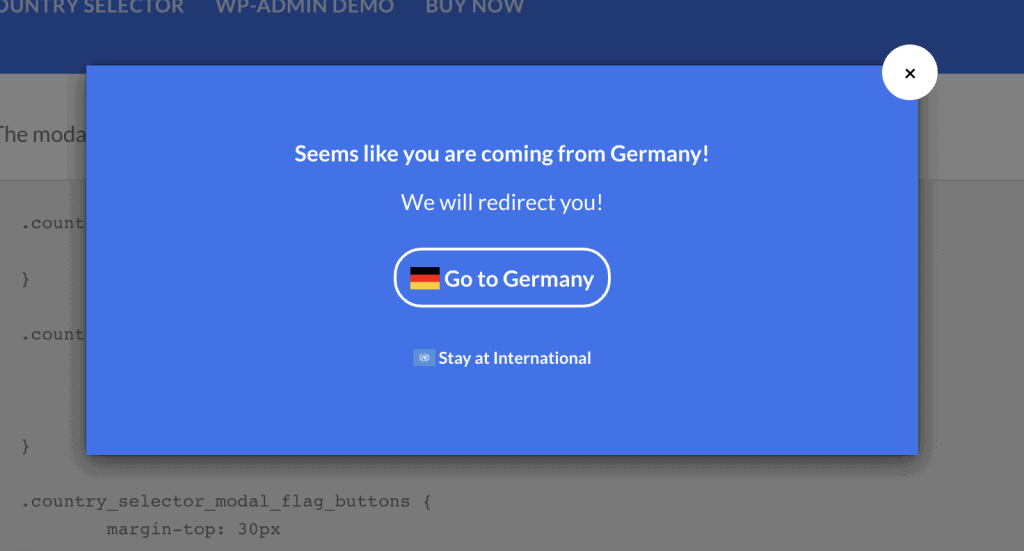 Automatic Country Redirects
To serve the most relevant content to site visitors, the WordPress Country Selector plugin can be configured to redirect users automatically.
After arriving on websites, popups draw visitors attention to local pages which might be available. If site visitors decline to select any option, site admins can configure forced redirects to take place. Where a specific locale isn't covered, redirects will default back to international website versions. In the WordPress Country Selector back office, site admins can also custom configure the amount of time which should elapse before automatic redirects take effect.
Use Cookies to Remember Choices
Regular website visitors hate being bombarded with the same popups every time they revisit pages. For this reason, the WordPress Country Selector plugin can be configured to remember user preferences using cookies.
View Admin Demo


Select Country Preferences Via Dropdown Menus
In cases where website visitors are using a VPN (or are located in close to country borders), your WordPress multisite might identify incorrect local page selections. To avoid confusion, popups can be configured to display dropdown lists of available country pages.