Filtres illimités
Créez un nombre illimité de catégories et de filtres de magasins Attribuez des magasins via des fichiers d'importation et laissez vos utilisateurs filtrer en toute simplicité
Personnalisable
Configurez les données relatives aux magasins que vous souhaitez afficher, créez des mises en page personnalisées pour la localisation des magasins et appliquez des styles de cartes personnalisés pour adapter le design à votre thème
Caractéristiques uniques
Pages de magasin unique, im- et exportations Excel, icônes personnalisées, recherche de magasin et shortcodes de magasin le plus proche C'est ce qui rend notre plugin unique
Le seul plugin WP Store Locator dont vous avez besoin
Vous pouvez arrêter de chercher Si vous avez besoin d'un plugin complet de localisation de magasin pour votre site Web WordPress, alors vous devriez obtenir le nôtre Les principaux avantages pour lesquels vous devriez obtenir notre plugin :
Im- et export Excel intégrés
CF7 formulaires de magasin de contact
Pages d'un seul magasin
Recherche du code court d'accroche pour les magasins
Options et styles illimités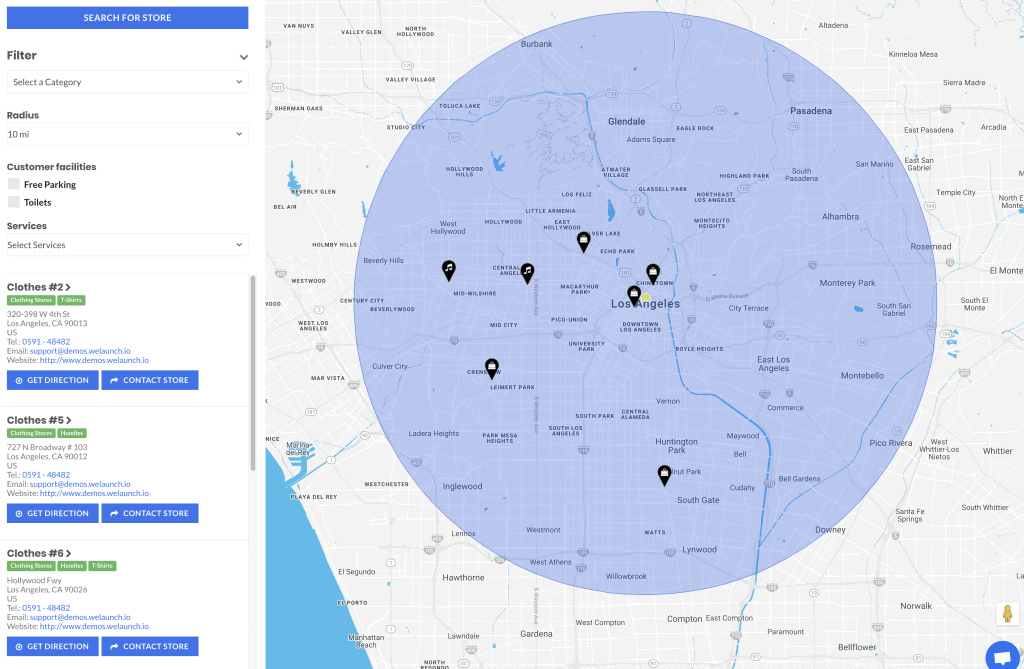 Aidez les consommateurs à trouver votre magasin
Si votre site Web WordPress est lié à une marque de détail du monde réel, vous avez besoin d'un localisateur de magasin WordPress intuitif
86 % des consommateurs en ligne utilisent Internet pour trouver des entreprises locales Pour aider les consommateurs à trouver votre magasin, WordPress Store Locator fonctionne avec Google Maps pour convertir les visites du site en ligne en trafic piétonnier dans le monde réel En tant que plugin de carte WordPress, WordPress Store Locator fournit aux visiteurs du site un moyen facile de filtrer les magasins par emplacement, disponibilité des produits et heures d'ouverture des magasins physiques
Voir la démo du localisateur de magasin
Styles et options de personnalisation de la carte du localisateur de magasin WP
WordPress Store Locator vous permet de vendre plus facilement hors ligne L'intégration avec l'assistant de style de Google Maps, permet aux propriétaires de magasins d'e-commerce d'importer ou de créer des centaines de styles de cartes différents Les administrateurs de sites peuvent également utiliser des icônes personnalisées pour représenter les différents types de magasins, ainsi que personnaliser le chargement des pages de carte et les informations présentées aux visiteurs
Utilisez différentes icônes de WordPress Store Locator pour représenter différents types de magasins
Définir des icônes de chargement de page personnalisées propres à votre marque
Configurez le localisateur de magasins WP pour filtrer les magasins par emplacement, distance ou par ordre alphabétique
Configurez WordPress Google Maps pour qu'il augmente automatiquement le rayon de recherche lorsqu'aucun magasin n'est trouvé dans le voisinage immédiat de l'utilisateur
Grâce à WordPress Store Locator, les administrateurs du site ont un contrôle total sur les informations qui sont affichées sur les pages de carte, ainsi que sur la manière dont les informations sont présentées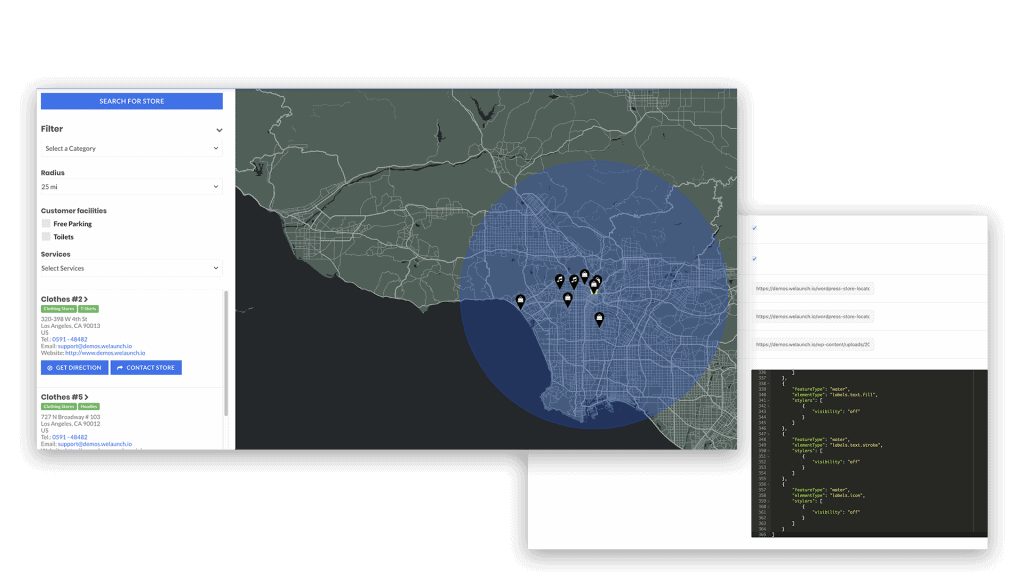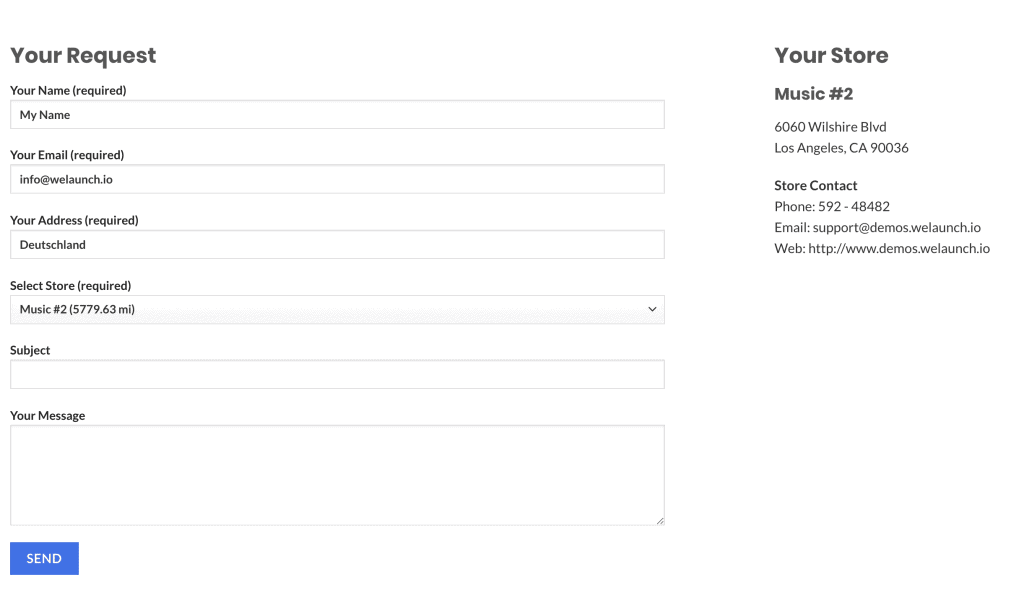 Pages de contact des magasins individuels
Single stores can be configured to appear on their own pages.This improves local SEO. At the same time, custom action links and contact forms can be used to boost real-time conversions.
After searching for stores via different locations and product categories, website visitors are presented with physical store opening hours. Just like with Google Maps,visitors can then click action linksto get directions to different stores.
Slightly different from standalone WordPress map plugins, WP Store Locator can be configured to allow users tocontact stores directly. Static contact information can be displayed on store pages, or visitors can make use of store specific contact forms.
Voir la démo de Contact Store
Pages d'un seul magasin
Notre plugin crée des pages uniques pour chaque magasin que vous avez publié Grâce à cette fonctionnalité, vous pouvez facilement partager les URL de chaque magasin, obtenir plus d'informations sur les magasins que vos utilisateurs trouvent et augmenter la visibilité SEO
Voir la démo d'un magasin unique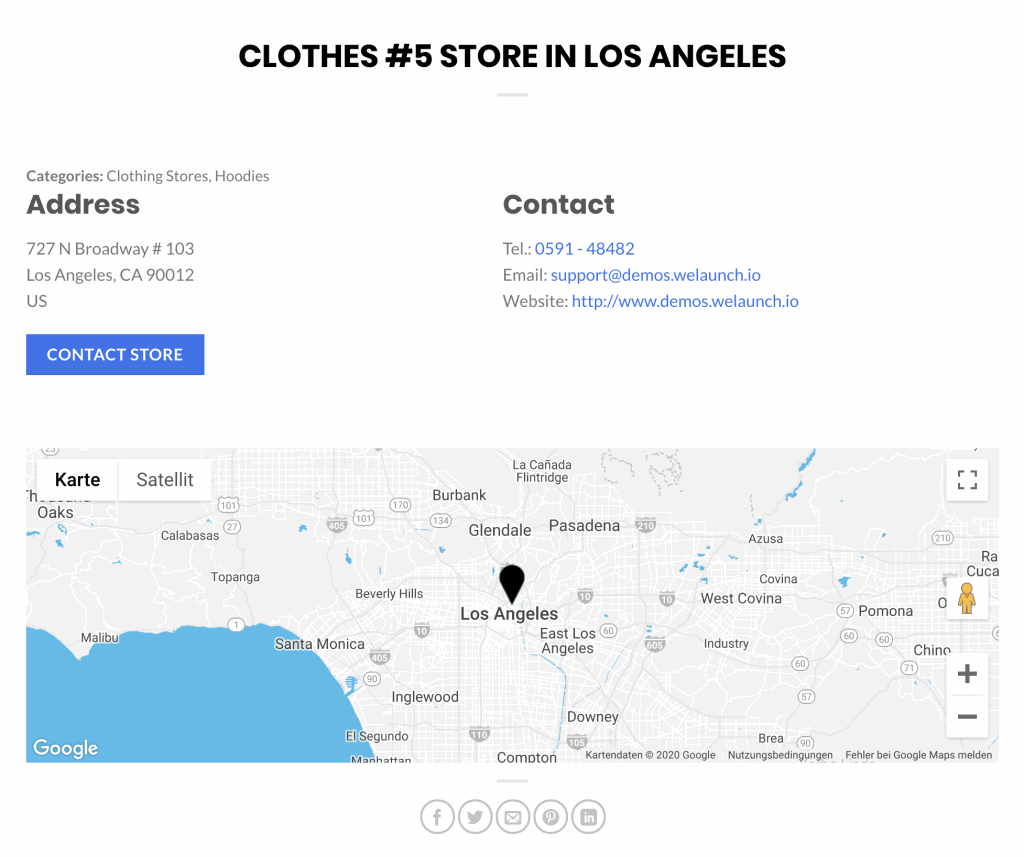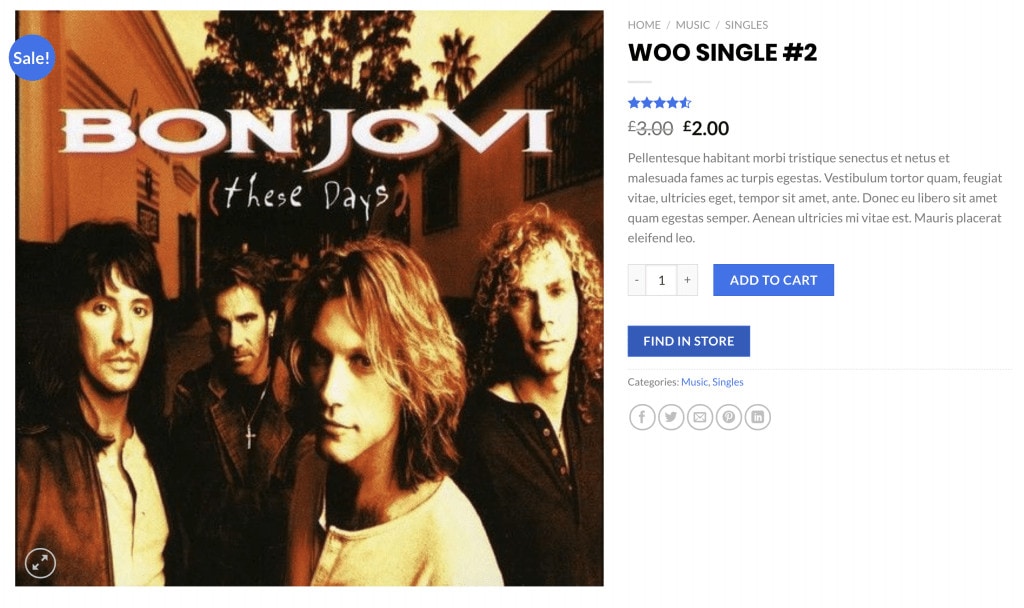 Support WooCommerce
Affichez un bouton de recherche en magasin dans les pages de produits uniques de WooCommerce pour augmenter les ventes hors ligne Le bouton ouvrira le localisateur de magasin dans une vue modale Si les catégories de produits sont liées aux catégories de magasins, les filtres seront présélectionnés
Voir la démo de la page produit
Catégories et filtrage du localisateur de magasins WP
WordPress Store Locator uses a simple to manage back office which allows site owners toset several different store filtering options. Allow site users to filter real-world stores by the availability of different product categories. Alternatively, enable plugin users to filter store locations by the availability of various facilities such as parking and restroom access.
Lorsque les magasins proposent plusieurs gammes de produits et donnent accès à d'autres commodités, il est possible de définir des icônes de magasin haut de gamme pour attirer l'attention des consommateurs
Voir la recherche pour la démonstration du magasin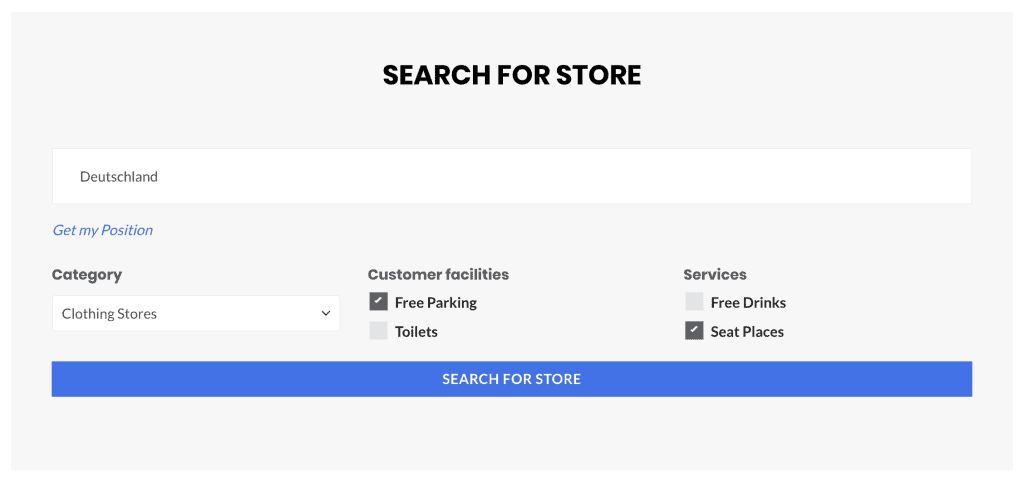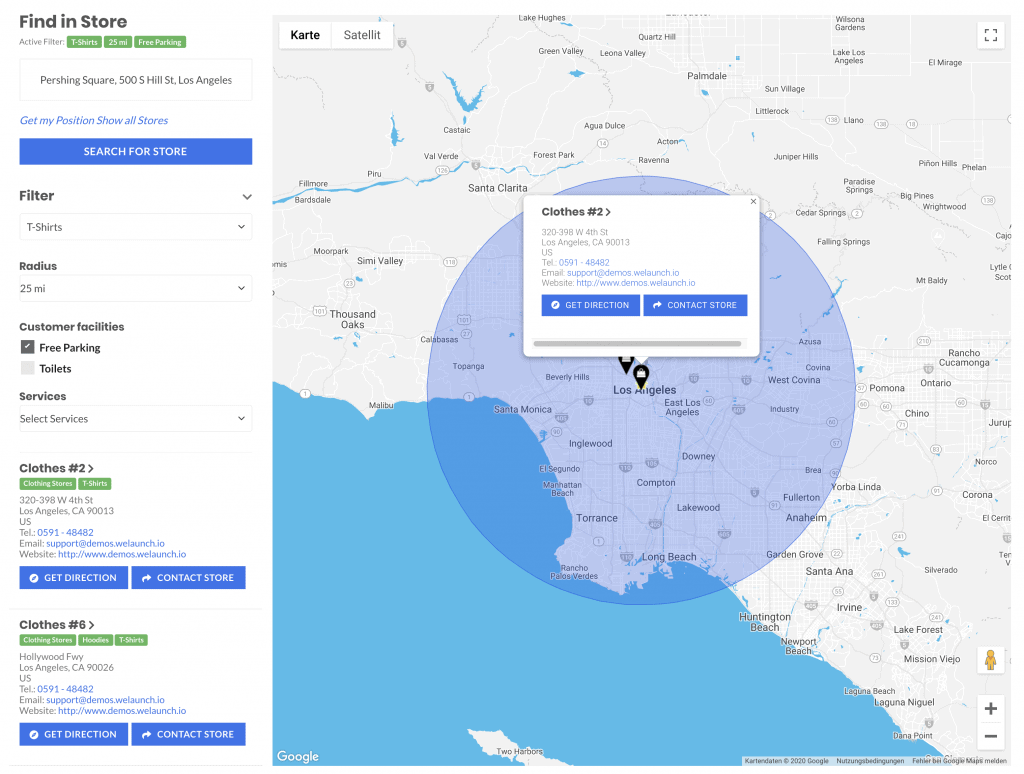 Filtrage AJAX
WordPress Store Locator utilise le filtrage AJAX et les shortcodes intégrés pour charger plusieurs éléments de contenu simultanément
En quelques clics de souris, les visiteurs du site peuvent naviguer rapidement à travers plusieurs champs d'information différents La largeur des cartes et le placement des blocs de contenu dans WP Store Locator peuvent également être personnalisés pour s'adapter à des marques spécifiques et fournir des expériences de navigation plus intuitives
Voir la démo du filtre
Acheter WordPress Store Locator aujourd'hui
WordPress Store Locator is the most intuitive WordPress Google Maps plugin currently on the market. Download now, or test driveFree WordPress store locator Demo.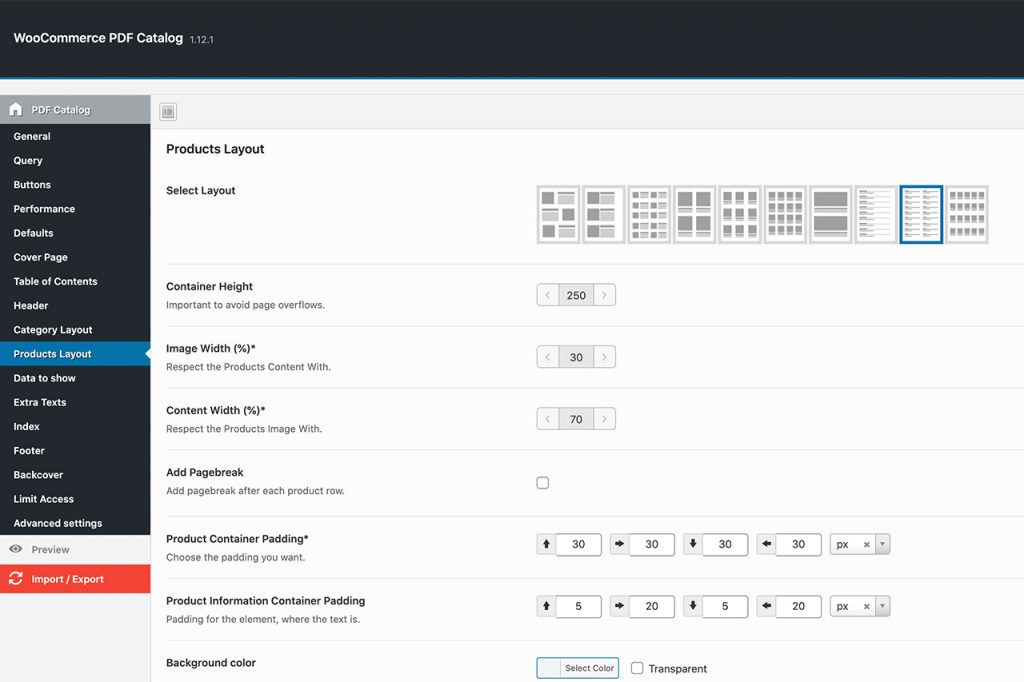 Augmentation automatique du rayon
Si aucun magasin n'a été trouvé dans le rayon des utilisateurs, vous pouvez activer l'augmentation automatique du rayon jusqu'à ce que des magasins soient trouvés
Rayon et marches par défaut
Vous pouvez définir les étapes du rayon et bien sûr le rayon par défaut comme vous le souhaitez
Triage
Triez vos magasins par distance, magasins premium ou par ordre alphabétique Vous pouvez choisir
Intégration de WooCommerce
Ne perdez pas de clients hors ligne Activez une modale de localisation de magasin directement sur les pages de produits WooCommerce, qui applique automatiquement les filtres de catégorie corrects
Icône de chargement personnalisée
Définissez une icône de chargement personnalisée et une taille adaptée à vos besoins
Magasins Premium
Mettez en avant les magasins premium avec une icône spéciale
Restrictions de l'autocomplétion
Limitez l'autocomplétion à des pays personnalisés et à des types personnalisés (comme la ville, la région, etc) Ne perdez jamais de clients qui recherchent un code postal et obtiennent une rue
Valeurs par défaut
Définissez des valeurs par défaut avant de créer des magasins manuellement (comme les heures d'ouverture ou le pays) et gagnez du temps
Personnalisation de la mise en page
Définissez une largeur de liste de résultats et de carte personnalisée Choisissez l'endroit où vous souhaitez que les blocs soient affichés (barre latérale droite, barre latérale gauche, sous ou au-dessus de la carte) Vous pouvez même désactiver la carte complète ou la liste de résultats