Mandatory Accessories
Add mandatory / required accessories to your products. These will automatically be put into the users cart.
Optional Accessories
Show optional accessories and increase your sales by selling products your customers might need.
Automatic Cart Update
Adding / Removing main products from the cart will automatically add / remove the required accessories.
WooCommerce Product Addons
WooCommerce product pages are like digital display cases for your products. However, shoppers also like to accessorize and take advantage of bundles. The WooCommerce Product Accessories plugin, therefore, allows store owners to bundle mandatory and optional accessories together with parent products.
When perusing WooCommerce product pages, pages themselves display visual addon and accessory ideas which compliment purchases. Doing so mirrors real-life shopping experiences and helps store owners more effectively cross-sell additional inventory.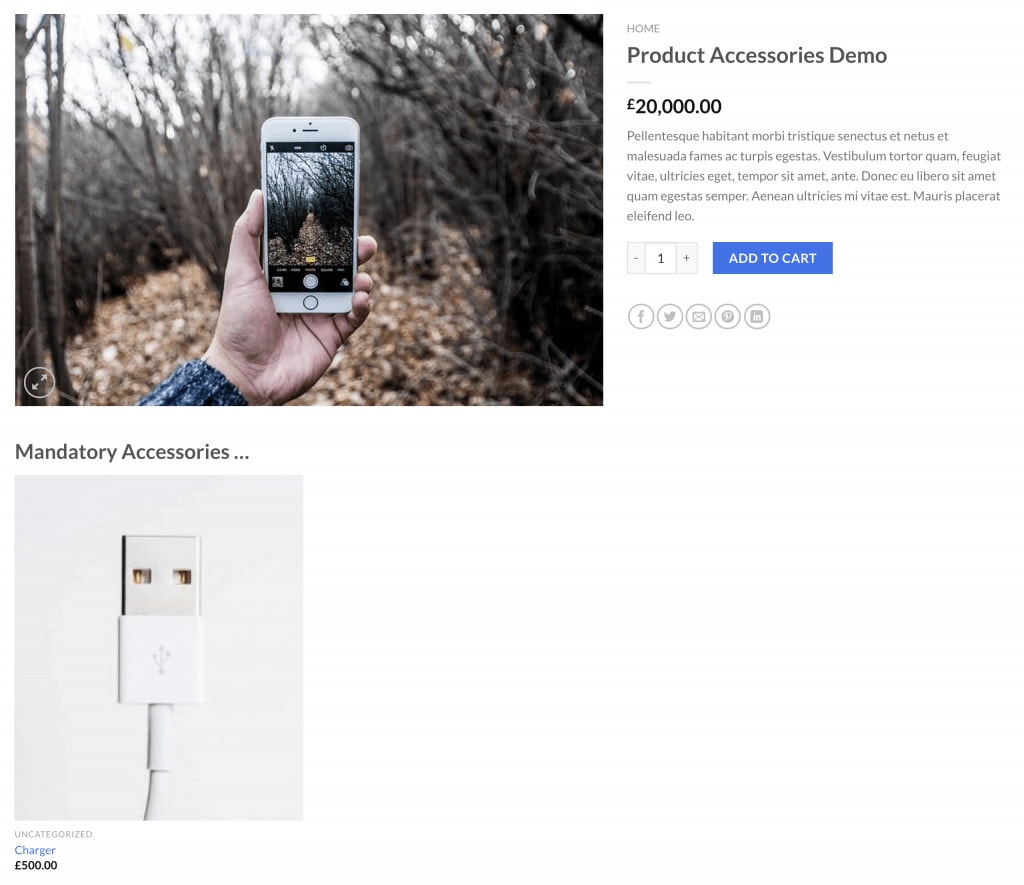 Configure Mandatory WooCommerce Product Addons
The idea of mandatory WooCommerce product accessories can sound off-putting. However, there are several contexts where adding mandatory WooCommerce product addons adds value.
Products like cameras and smartphones require specific cables and device chargers to operate. In most cases, parent products will, therefore, need at least one mandatory accessory to function as expected.
Rather than recommend separate items in product descriptions, the WooCommerce Product Accessories plugin allows store owners to add mandatory accessories to product listings automatically.
Site admins select mandatory accessories to pair with products in the plugin back office
Accessories can still be sold on a standalone basis via their own WooCommerce product pages
When parent products are selected, mandatory accessories are automatically added to customer shopping carts
Whether manually selected by consumers or not, mandatory accessories will appear in WooCommerce store shopping carts when customers click to complete purchases. More importantly, clear accessory labeling on product pages lets buyers know in advance that accessory purchases are mandatory.
Optional WooCommerce Product Addons
The WooCommerce Product Accessories plugin helps store owners cross-sell a variety of otherwise separate store items. Specifically, by recommending items which can compliment parent product purchases. Common optional accessories, therefore, include the likes of smartphone cases and non-essential electronic device peripherals.
In the WooCommerce Product Accessories plugin back office, store owners identify what optional accessories should be listed on parent product pages
WooCommerce product listings and shopping carts display accessory ideas to consumers
Cross-selling opportunities increase. Specifically, thanks to the fact that shoppers often feel enthused about buying from the same (or a related) product family
In order to make the most out of cross-selling with WooCommerce product accessories, optional accessories should always add value to parent products. Items like micro SD cards should, for instance, always be paired with suitable electronic devices.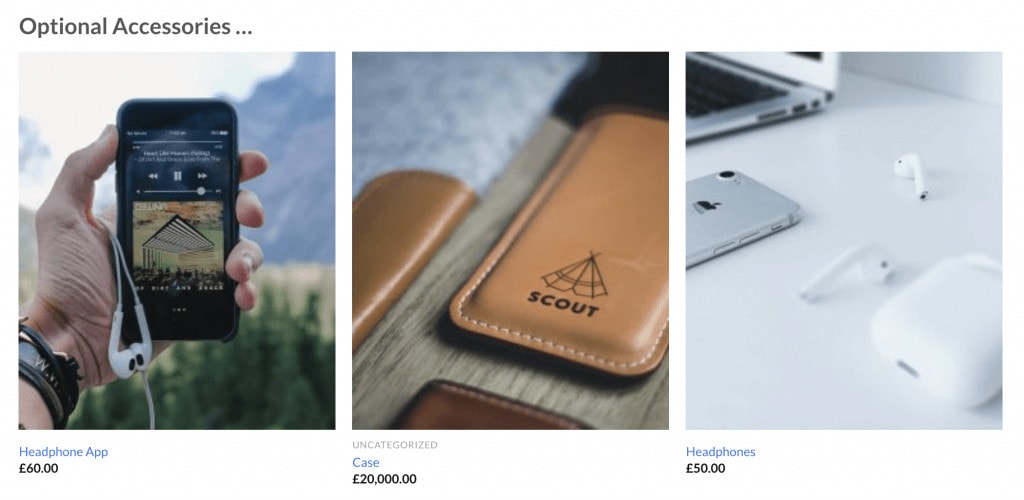 Automatic Shopping Cart Updates
Optional accessories encourage cross-selling by encouraging what are effectively impulse purchases. However, like with any impulse purchase, consumers might change their mind at the last moment.
Before confirming purchases on shopping cart checkout pages, WooCommerce customers are presented with an overview of their complete order. Here, shoppers can remove optional accessories without removing parent products. Conversely, mandatory WooCommerce product addons will remain, unless parent products are removed from shopping carts also.
Automatically updating shopping carts prevents consumers from accidentally purchasing mandatory accessories when main product purchases are abandoned
Optional accessories can be removed from shopping carts individually
Before reaching checkout areas, shopping carts are updated automatically, as shoppers select and de-select different items
Just like real-life store person recommendations, WooCommerce Product Accessories inspires additional purchases and adds value to shopping experiences. Download now or click here to view a live demonstration.

Easy Backend Settings
To add mandatory or optional accessories in WooCommerce you simply edit a product in the backend. Then you move down to "Linked Products" section. When you open this section you see two new fields, one for mandatory & one for optional accessories.
Enter product name or SKU there. The live search will query all your products and you can then select one of the suggested items.