PDF, Word or Print
Display export icons on product pages for PDF, Word or print. You decide what icons will be shown.
PDF Export
Export single products as PDF files. Add a custom header or footer, show QR-Codes and more!
Data to Show
Configure yourself what product data you want to show in the exported files.
Header & Footer
Customize the header / footer as you like.
6 Layouts
Choose from more than 6 different export layouts.
Variations supported
WooCommerce variations are 100% supported.
The Easy Way to Export Product Pages
WooCommerce customers love to save eye-catching product searches for later reference. WooCommerce Print Products makes this possible. Specifically, by allowing shoppers and store owners to download any WooCommerce product page as a professionally formatted Word or PDF leaflet.
The Print Products WooCommerce Plugin makes it easy to download any WooCommerce product page as a professionally formatted PDF flyer. Suitable for single product pages only, store owners have full control over how exported pages are presented. The Print Products plugin also allows store owners to grant or deny export permissions to different store users.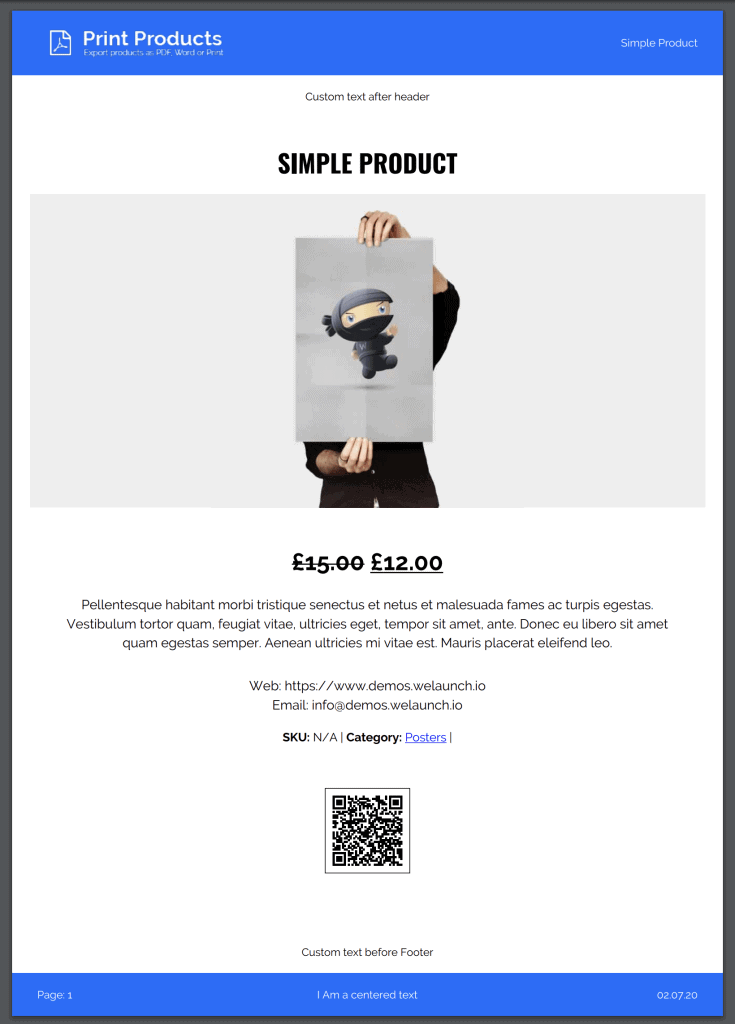 Fully Customizable PDF Flyers
WooCommerce Print Products puts a variety of customization tools at the fingertips of store admins.
In the WooCommerce plugin back office, store owners can create custom headers and footers for PDF product pages. Custom fonts and extra text (not visible on online WooCommerce product pages), can also be used to add additional product information and calls to action.
Choose from 3 different print leaflet layouts
Display variable product options in two eye-catching formatting styles
Add custom catalog text before product details
Store owners can also add product QR-Codes to PDF catalog pages. This way, offline flyer viewers can be redirected easily to online listings and checkout areas.
View PDF Example
Export Single WooCommerce Products as PDF & Word or Print
Ubiquitous formatting means that WooCommerce product page PDF's retain their appearance across PC and mobile devices. However, the Print Products WooCommerce plugin can also be used to download product flyers in MS Word format.
In the Print Products back office, WooCommerce store owners select what Print, PDF, or MS Word export options they wish to appear on product pages. After configuration, different download options appear as icons on storefronts.
View Product Demo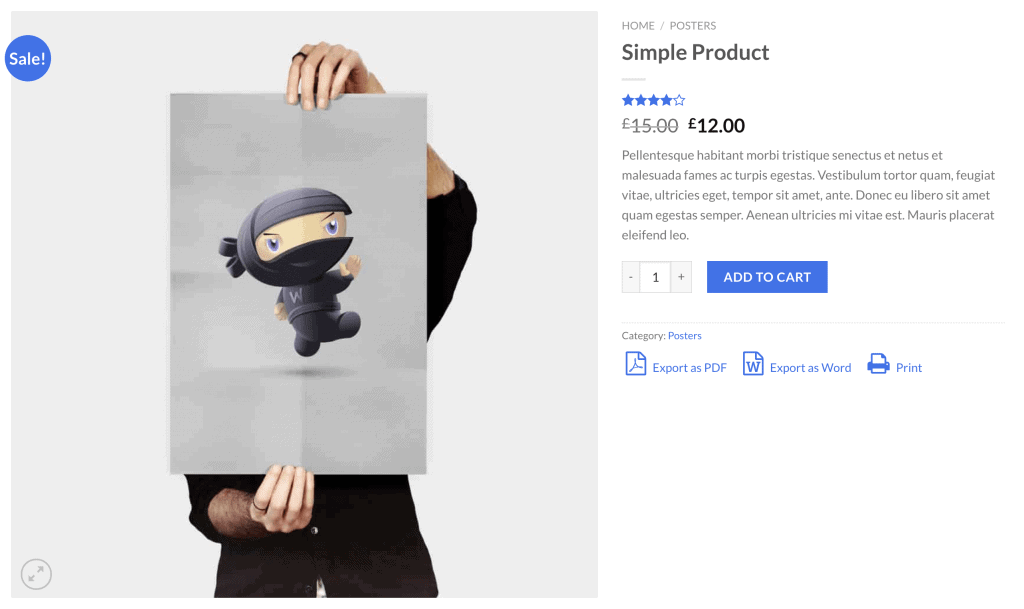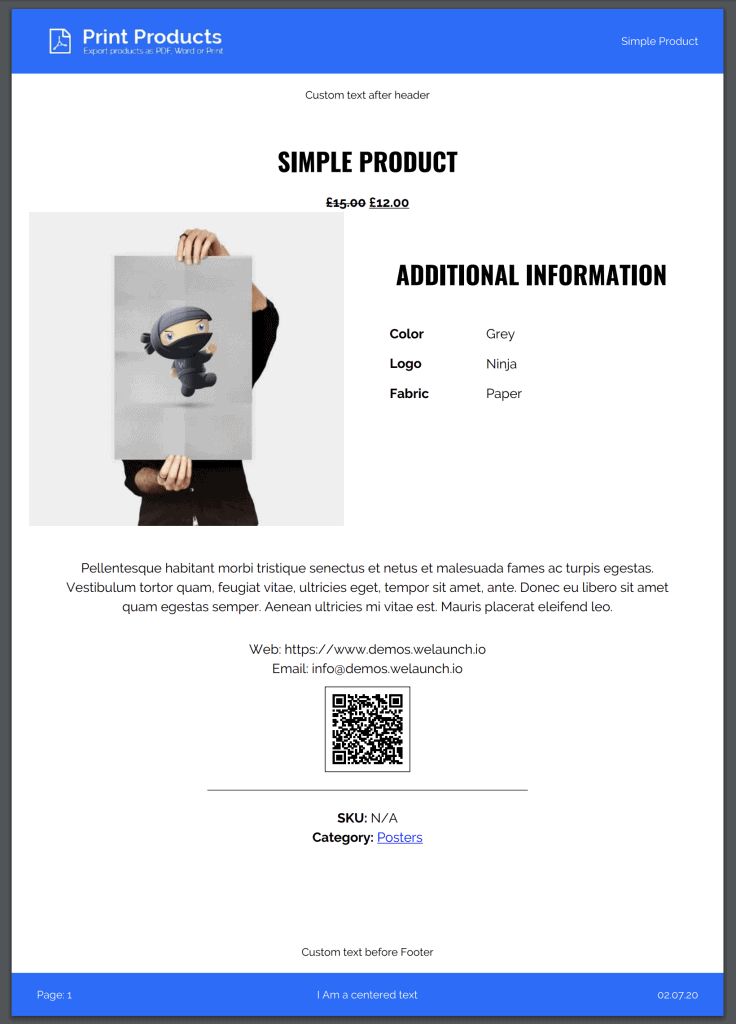 Customize the PDF Layout
WooCommerce Print Products can be used to create printable Word and PDF flyers for single product pages only. (To create a full PDF WooCommerce store brochure, see the WooCommerce PDF Catalog plugin.) However, plugin customization options still allow store owners to create catalog-quality PDF leaflets.
Add custom footers and headers with colored background and text support
Style flyers just as professionally as real catalog pages
Display all product attributes and add complimentary extra descriptions and store information
Standalone WooCommerce product page PDF's are also ideal for use in email marketing campaigns, and can easily be made available for direct download on must social media platforms.
Customizable Data Options
WooCommerce customers interact with online and offline media differently. Stock keeping unit (SKU) details and product reviews aren't always suitable for inclusion in PDF data sheets. The Print Products WooComerce plugin, therefore, allows store admins to specify what listing information should and shouldn't be exported.
Choose what (if any) price and SKU details is displayed in exported PDF's
Specify what gallery images should display alongside descriptions
In place of redundant text, add new text and calls to action to upsell products
View Admin Demo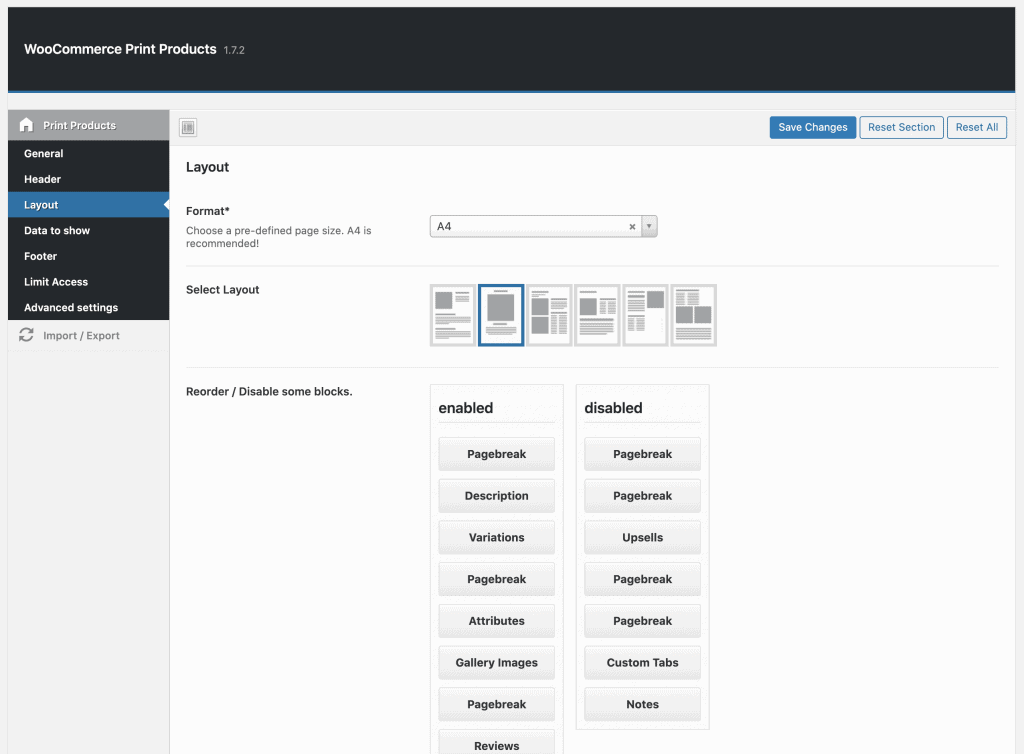 Custom Fields
Show custom fields as you like.
Extra Texts
Add extra text before or after the catalog.
Variations Support
Variations are supported with 2 different styles.
Excludes / Includes
Include or Exclude Product categories or single products.
Custom Layouts possible
If you need a custom layout, you can either develop this using our filters or contact us.
Limit Access
Apply the catalog mode only on specific user roles.