PDF, Word o impresión
Mostrar iconos de exportación en las páginas de productos para PDF, Word o impresión Usted decide qué iconos se mostrarán
Exportación de PDF
Exporte productos individuales como archivos PDF Añade una cabecera o un pie de página personalizados, muestra códigos QR y mucho más
Datos a mostrar
Configure usted mismo los datos del producto que desea mostrar en los archivos exportados
Encabezado y pie de página
Personaliza la cabecera/pie de página como quieras
6 diseños
Elija entre más de 6 diseños de exportación diferentes
Variaciones admitidas
Las variaciones de WooCommerce son 100% compatibles
La manera más fácil de exportar páginas de productos
A los clientes de WooCommerce les encanta guardar búsquedas de productos llamativos para consultarlos más tarde WooCommerce Print Products hace esto posible En concreto, permitiendo a los compradores y a los propietarios de las tiendas descargar cualquier página de producto de WooCommerce como un folleto con formato profesional en Word o PDF
El plugin Print Products WooCommerce facilita la descarga de cualquier página de producto de WooCommerce como un folleto PDF con formato profesional Adecuado sólo para páginas de productos individuales, los propietarios de las tiendas tienen un control total sobre cómo se presentan las páginas exportadas El plugin Print Products también permite a los propietarios de la tienda conceder o denegar los permisos de exportación a diferentes usuarios de la tienda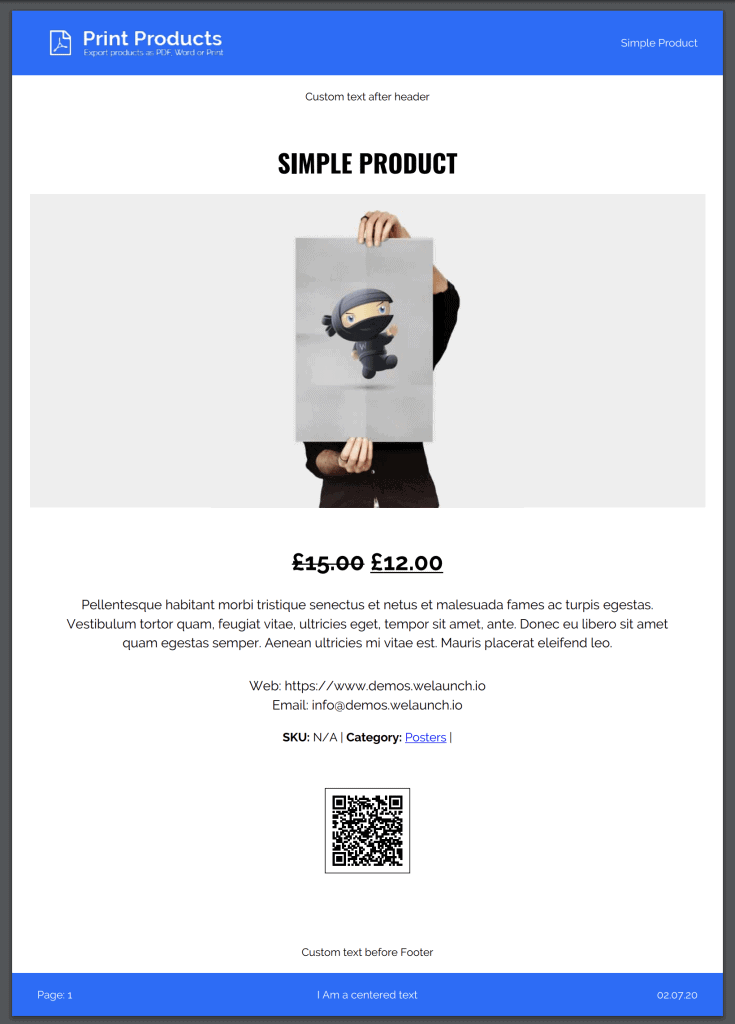 Folletos en PDF totalmente personalizables
WooCommerce Print Products pone una variedad de herramientas de personalización al alcance de los administradores de la tienda
En el back office del plugin de WooCommerce, los propietarios de las tiendas pueden crear encabezados y pies de página personalizados para las páginas de productos en PDF Las fuentes personalizadas y el texto adicional (no visible en las páginas de productos de WooCommerce en línea), también se pueden utilizar para añadir información adicional del producto y llamadas a la acción
Elija entre 3 diseños diferentes de folletos para imprimir
Muestre las opciones de productos variables en dos estilos de formato llamativos
Añadir texto de catálogo personalizado antes de los detalles del producto
Los propietarios de tiendas también pueden añadir códigos QR de productos a las páginas del catálogo en PDF De esta manera, los espectadores de folletos fuera de línea pueden ser redirigidos fácilmente a los listados en línea y a las áreas de pago
Ver ejemplo en PDF
Exportar productos individuales de WooCommerce como PDF y Word o imprimir
El formato omnipresente significa que los PDF de las páginas de productos de WooCommerce conservan su aspecto en el PC y en los dispositivos móviles Sin embargo, el plugin Print Products WooCommerce también puede utilizarse para descargar folletos de productos en formato MS Word
En el back office de Productos de Impresión, los propietarios de la tienda de WooCommerce seleccionan las opciones de impresión, PDF o exportación de MS Word que desean que aparezcan en las páginas de los productos Después de la configuración, las diferentes opciones de descarga aparecen como iconos en los escaparates
Ver demostración del producto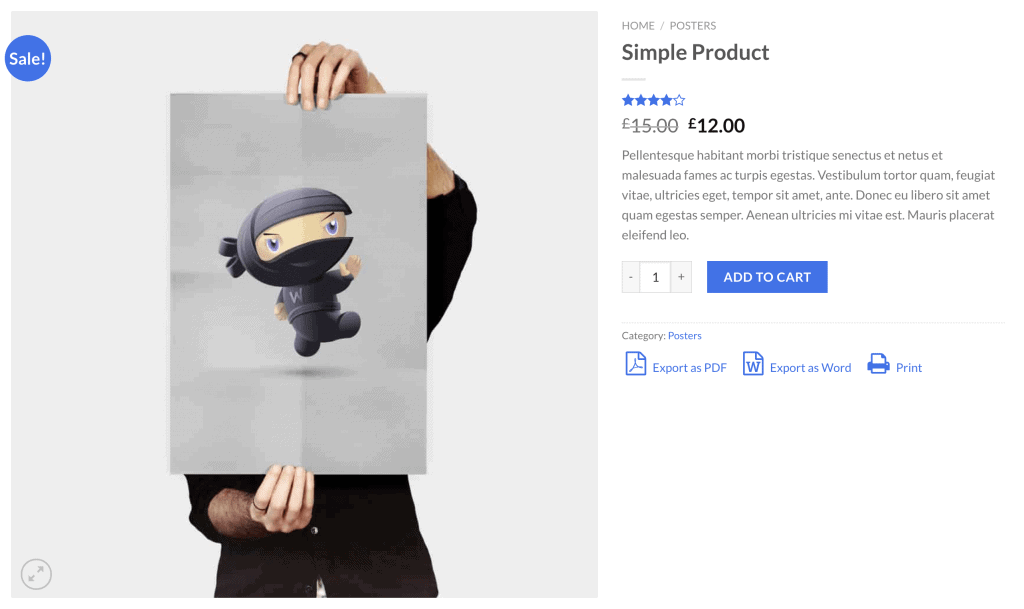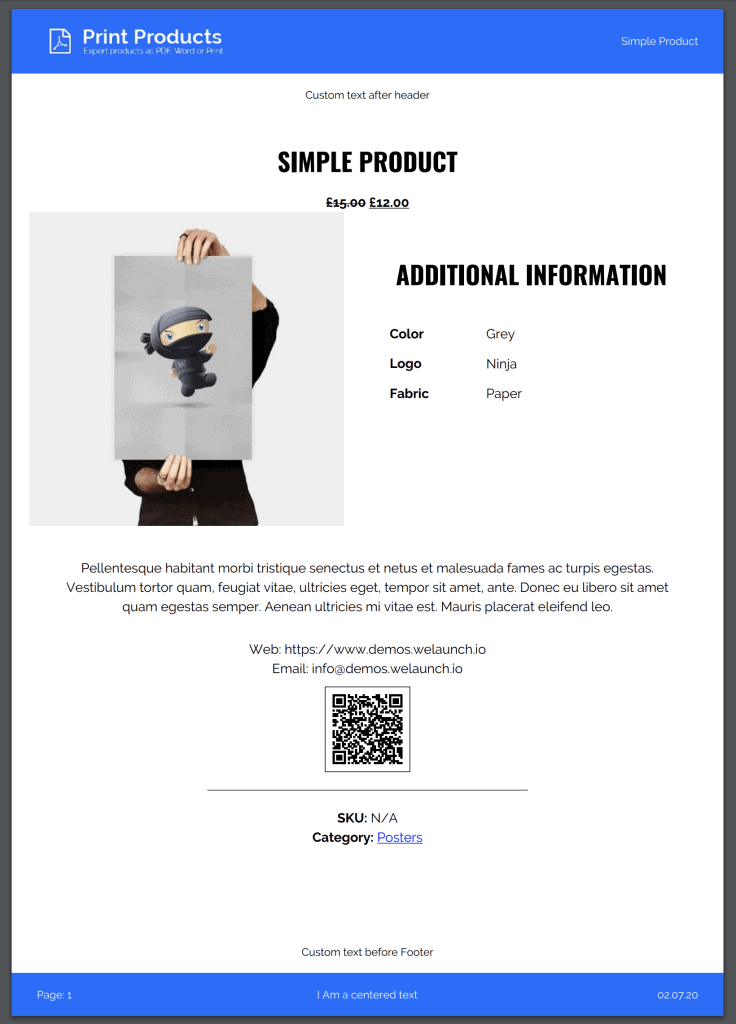 Personalizar el diseño del PDF
WooCommerce Print Products can be used to create printable Word and PDF flyers for single product pages only. (To create a full PDF WooCommerce store brochure, see theWooCommerce PDF Catalog plugin.) However, plugin customization options still allow store owners to create catalog-quality PDF leaflets.
Añadir pies de página y cabeceras personalizadas con fondo de color y soporte de texto
Estilice los folletos con la misma profesionalidad que las páginas del catálogo real
Muestre todos los atributos del producto y añada descripciones adicionales e información de la tienda
Los PDF de las páginas de producto de WooCommerce también son ideales para su uso en campañas de marketing por correo electrónico, y pueden estar disponibles para su descarga directa en las plataformas de redes sociales
Opciones de datos personalizables
Los clientes de WooCommerce interactúan con los medios online y offline de forma diferente Los detalles de las unidades de mantenimiento de existencias (SKU) y las reseñas de los productos no siempre son adecuados para incluirlos en las hojas de datos en PDF El plugin Print Products WooComerce, por lo tanto, permite a los administradores de la tienda especificar qué información del listado debe y no debe ser exportada
Elija qué detalles de precios y SKU (si los hay) se muestran en los PDF exportados
Especifique qué imágenes de la galería deben aparecer junto a las descripciones
En lugar de texto redundante, añada nuevos textos y llamadas a la acción para vender productos más caros
Ver demostración de administración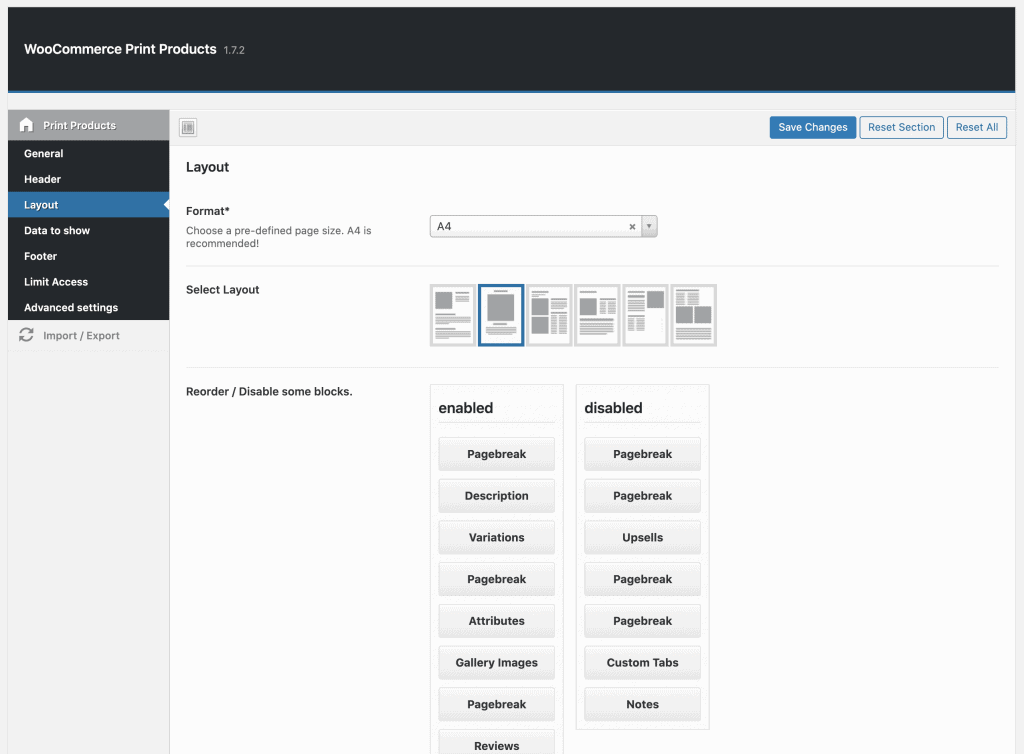 Campos personalizados
Muestra los campos personalizados como quieras
Textos adicionales
Añade texto extra antes o después del catálogo
Apoyo a las variaciones
Se admiten variaciones con 2 estilos diferentes
Excluye / Incluye
Incluir o excluir categorías de productos o productos individuales
Posibilidad de diseños personalizados
If you need a custom layout, you can either develop this using our filters orcontact us.
Limitar el acceso
Aplicar el modo de catálogo sólo en roles de usuario específicos