Category Styles
We have prepared more than 14 product category styles for your needs.
Category Sidebar Text
Add special category sidebar text with our Advanced Category Widget and improve your SEO.
Category Footer Text
Create category Footer text just as other big companies do to improve SEO also.
Landingpage Teaser
Show off special landingpage teaser at the start of each category to increase internal link building.
Dynamic SEO H1 Title
Build your own custom H1 SEO title by querying filter data.
Nested Categories
Enable WooCommerce nested categories, where a subcategory + products show below each other.
Improve WooCommerce SEO
The more aesthetically refined your WooCommerce store, the higher your store will rank in Google.
Of course, you already knew this. Did you know, though, that tweaking your product category pages and menus, could also be of benefit to your on-site SEO?
The Advanced Categories WooCommerce plugin is designed to help WooCommerce store owners boost on-site SEO. – Specifically, by allowing site admins to completely customize product category pages and menus. This is thanks to the fact that the Advanced Categories WooCommerce plugin, allows users to add eye-catching images to category header images.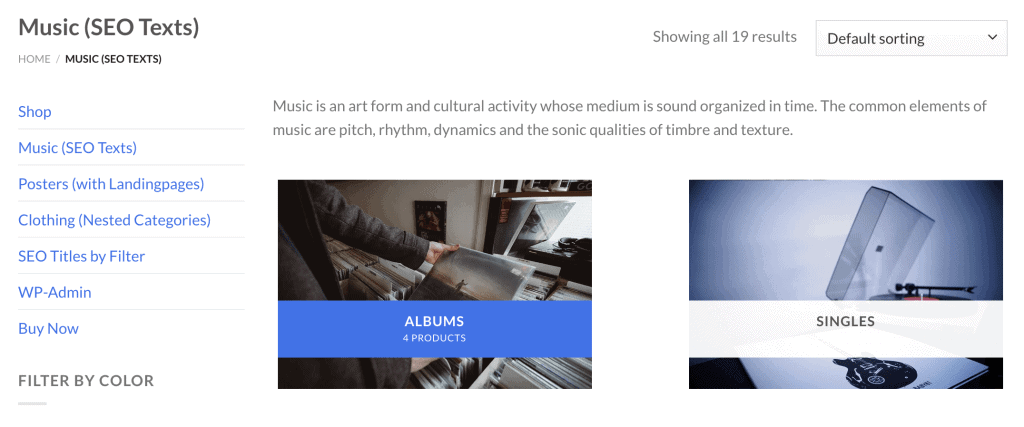 14 Product Category Styles
Because of the number of WooCommerce themes currently on the market, the Advanced Categories WooCommerce plugin comes complete with 14 inbuilt product category styles to choose from.
With each included product category style featuring bold interactive category headers, WooCommerce store owners can add unparalleled style and sophistication to product category pages. Much more importantly, highly-visual header designs help store owners showcase products much more professionally and drive sales in the process.
Nested Categories Layout
Using the Advanced Categories WooCommerce plugin, WooCommerce store owners can add nested and un-nested product listings below image headers. This and add custom footers and sidebars to product category pages. The end result being a much more stylish store layout and intuitive end-user experience.
Show subcategories and their products directly in parent category
Clearly structure your products by creating families for example
View Nested Categories Demo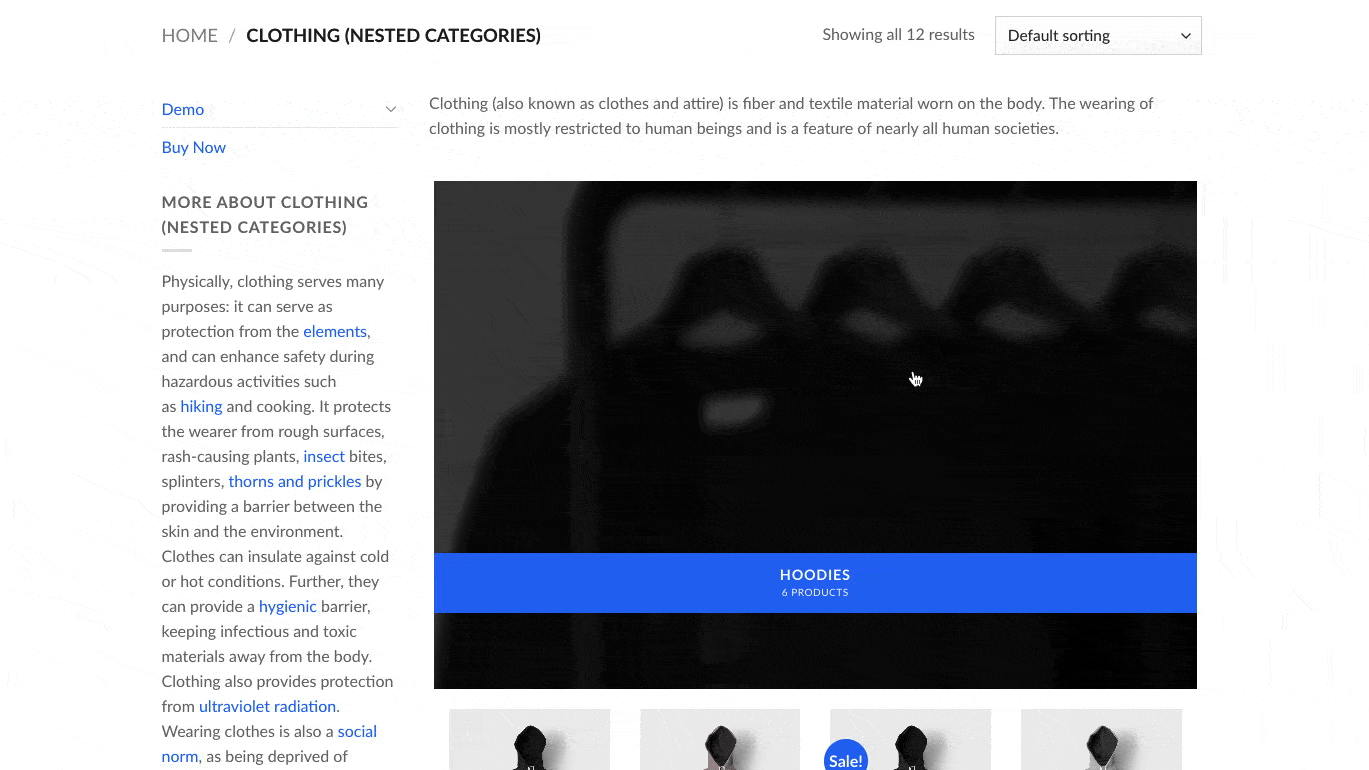 Landingpage Promotions
Promote category related landingpages directly in your WooCommerce product categories. For example show customers interested in posters a landingpage where you explain how to choose the best poster. This also increases internal SEO linking.
Show landingpage teasers in product categories
Increase internal SEO linking
View Landingpages Demo
Product Category Sidebar Text
Using the Advanced Categories sidebar text widget, WooCoomerce store owners can fully customize product category sidebars.
Highly beneficial in regard to on-site SEO, customizing product category sidebar text also allows store customers to more easily navigate store web pages. Site administrators simply enable product category sidebar functionality, define their sidebar title, and add whatever specialty text they feel is relevant.
Add sidebar texts to product categories
Use the dynamic widget to show texts
Increase category SEO
View sidebar text demo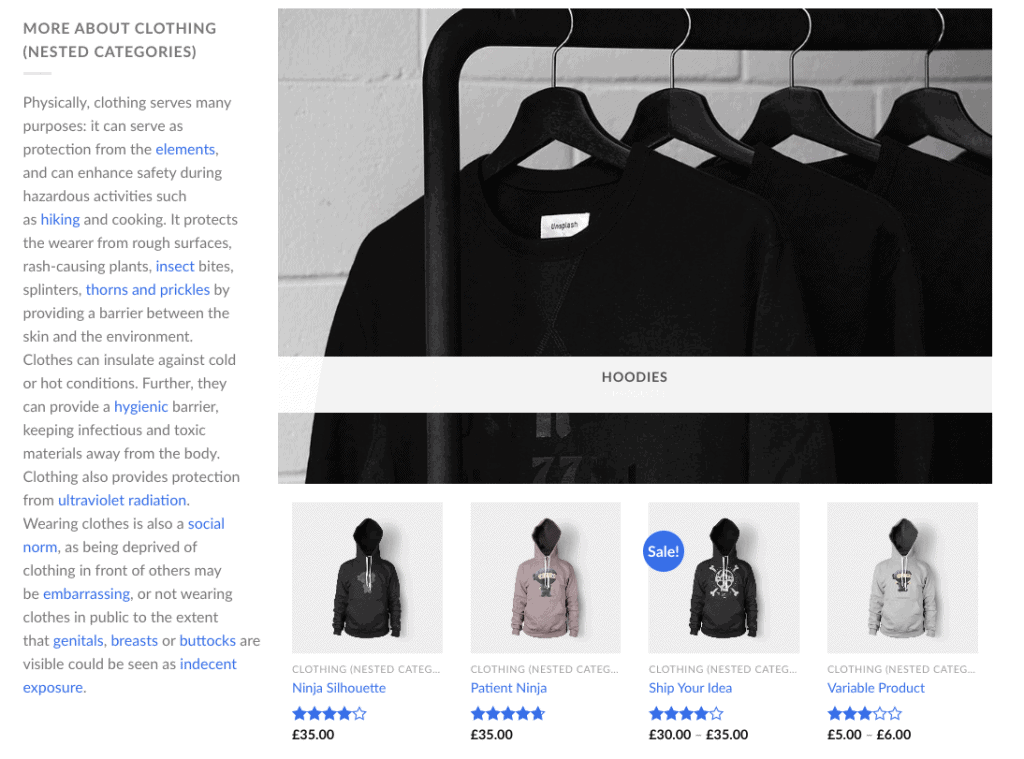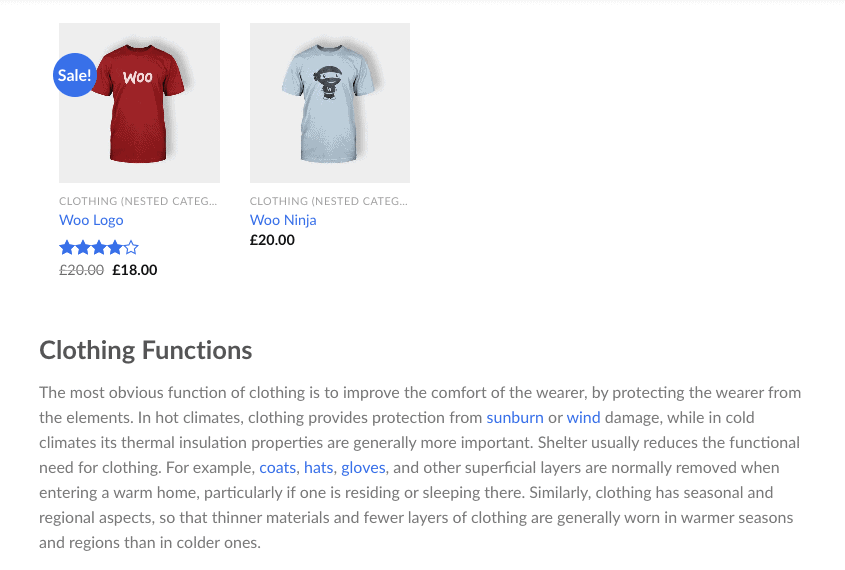 Category SEO Footer Text
With the Advanced Categories WooCommerce plugin, it is not just product category headers and sidebars which can be fully customized. Also allowing users to customize product category footer areas, WooCommerce store owners can add custom footers to each individual product category page.
Using custom footer areas to add extra text and essential product information, site admins can give a significant boost to their on-site SEO. Much more importantly, more professional page layouts overall, help build trust among store customers and incentivize the adding of more items to WooCommerce store shopping carts.
Show custom product category footer texts
Explain more about category and improve SEO
View Footer text demo
Sub- & Category-Title Tags
Modify the category title tag from div to h1 or similar.
Custom Column-Count
Show categories in 1,2,3,4 … columns. Just modify the loop with one click.
Shop Texts
Add extra shop text before and after the main shop page.
Independent Settings
Each category is independent and can have own columns & style settings.
Visual Composer Support
Easily show any category on normal pages with our VC module.
Shortcode Support
No Visual Composer? Just use our shortcode