PDF, Word ou Imprimer
Affichez les icônes d'exportation sur les pages de produits pour PDF, Word ou impression Vous décidez des icônes qui seront affichées
PDF Export
Exportez des produits individuels sous forme de fichiers PDF Ajoutez un en-tête ou un pied de page personnalisé, affichez des codes QR et bien plus encore
Données à afficher
Configurez vous-même les données relatives aux produits que vous souhaitez faire apparaître dans les fichiers exportés
En-tête et pied de page
Personnalisez l'en-tête et le pied de page comme vous le souhaitez
6 mises en page
Choisissez parmi plus de 6 modèles d'exportation différents
Variations prises en charge
Les variantes de WooCommerce sont prises en charge à 100 %
Le moyen le plus simple d'exporter des pages de produits
Les clients de WooCommerce aiment sauvegarder des recherches de produits accrocheurs pour s'y référer plus tard WooCommerce Print Products rend cela possible Plus précisément, en permettant aux acheteurs et aux propriétaires de magasins de télécharger n'importe quelle page de produit WooCommerce sous la forme d'un dépliant Word ou PDF formaté de manière professionnelle
Le plugin Print Products WooCommerce permet de télécharger facilement n'importe quelle page de produit WooCommerce sous forme de dépliant PDF au format professionnel Convenant uniquement aux pages de produits uniques, les propriétaires de magasins ont un contrôle total sur la façon dont les pages exportées sont présentées Le plugin Print Products permet également aux propriétaires de magasins d'accorder ou de refuser des autorisations d'exportation à différents utilisateurs du magasin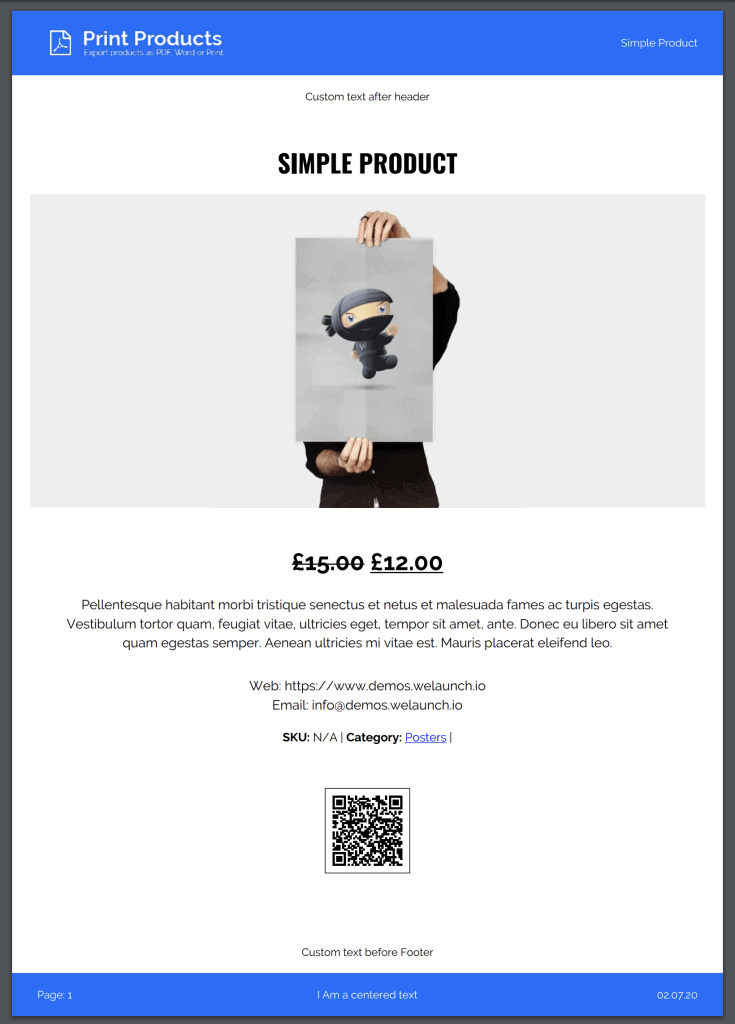 Flyers PDF entièrement personnalisables
WooCommerce Print Products met une variété d'outils de personnalisation à la portée des administrateurs de magasins
Dans le back-office du plugin WooCommerce, les propriétaires de magasins peuvent créer des en-têtes et des pieds de page personnalisés pour les pages de produits PDF Des polices personnalisées et du texte supplémentaire (non visible sur les pages de produits WooCommerce en ligne) peuvent également être utilisés pour ajouter des informations supplémentaires sur les produits et des appels à l'action
Choisissez parmi 3 mises en page différentes pour les dépliants imprimés
Affichez les options de produits variables dans deux styles de mise en forme accrocheurs
Ajouter un texte de catalogue personnalisé avant les détails du produit
Les propriétaires de magasins peuvent également ajouter des codes QR de produits aux pages du catalogue PDF Ainsi, les personnes qui consultent les prospectus hors ligne peuvent être redirigées facilement vers les listes en ligne et les zones de paiement
Voir l'exemple en PDF
Exportation de produits WooCommerce uniques au format PDF et Word ou à imprimer
Le formatage omniprésent signifie que les PDF des pages de produits WooCommerce conservent leur apparence sur les PC et les appareils mobiles Toutefois, le plugin Print Products WooCommerce peut également être utilisé pour télécharger des prospectus de produits au format MS Word
Dans le back-office des produits d'impression, les propriétaires de boutiques WooCommerce sélectionnent les options d'exportation Print, PDF ou MS Word qu'ils souhaitent voir apparaître sur les pages des produits Après configuration, les différentes options de téléchargement apparaissent sous forme d'icônes sur les vitrines des magasins
Voir la démo du produit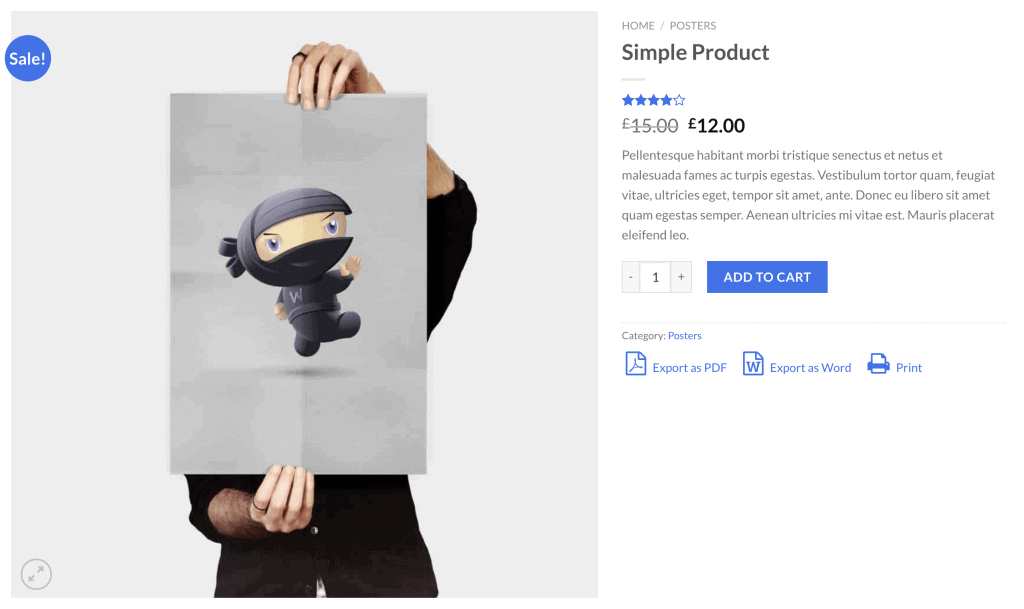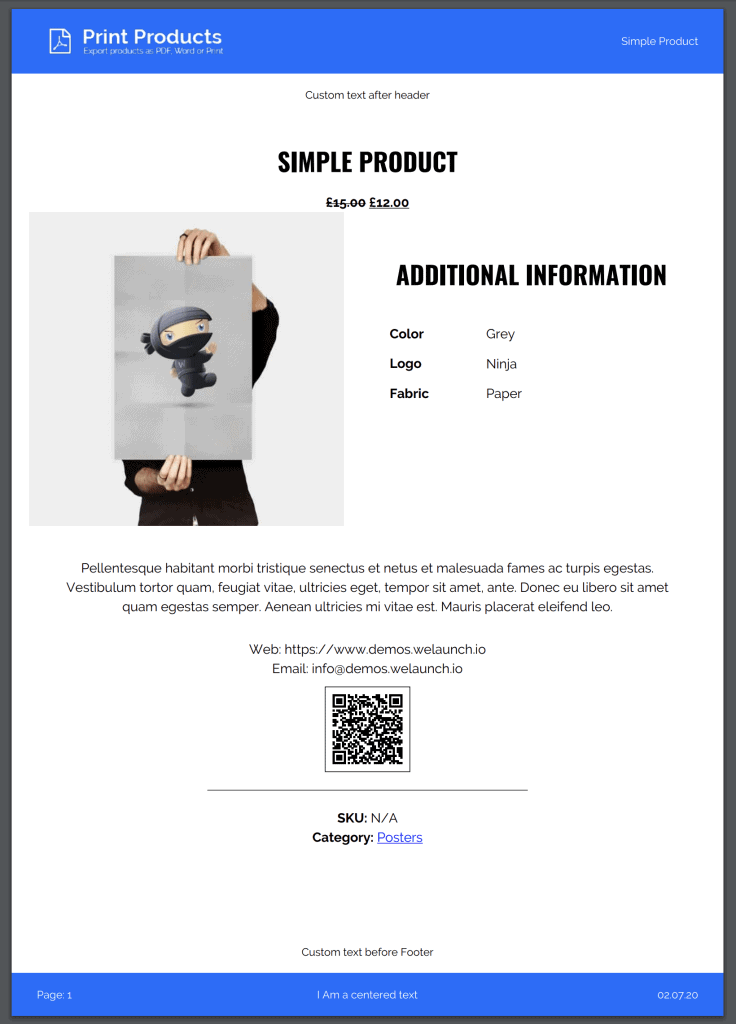 Personnaliser la mise en page du PDF
WooCommerce Print Products can be used to create printable Word and PDF flyers for single product pages only. (To create a full PDF WooCommerce store brochure, see theWooCommerce PDF Catalog plugin.) However, plugin customization options still allow store owners to create catalog-quality PDF leaflets.
Ajout de pieds de page et d'en-têtes personnalisés avec fond coloré et support de texte
Donnez aux prospectus un style aussi professionnel que les pages d'un véritable catalogue
Affichez tous les attributs du produit et ajoutez des descriptions supplémentaires complémentaires et des informations sur le magasin
Les PDF autonomes des pages de produits WooCommerce sont également idéaux pour les campagnes de marketing par courriel et peuvent facilement être mis à disposition pour un téléchargement direct sur les plateformes de médias sociaux
Options de données personnalisables
Les clients de WooCommerce interagissent différemment avec les médias en ligne et hors ligne Les détails des unités de gestion des stocks (UGS) et les commentaires sur les produits ne sont pas toujours adaptés à l'inclusion dans les fiches techniques PDF Le plugin WooComerce Print Products permet donc aux administrateurs de magasins de spécifier quelles informations de listing doivent et ne doivent pas être exportées
Choisissez les détails du prix et de l'UGS (le cas échéant) qui seront affichés dans les PDF exportés
Précisez quelles images de la galerie doivent être affichées à côté des descriptions
Au lieu d'un texte redondant, ajoutez un nouveau texte et des appels à l'action pour vendre des produits de qualité supérieure
Voir la démo de l'administrateur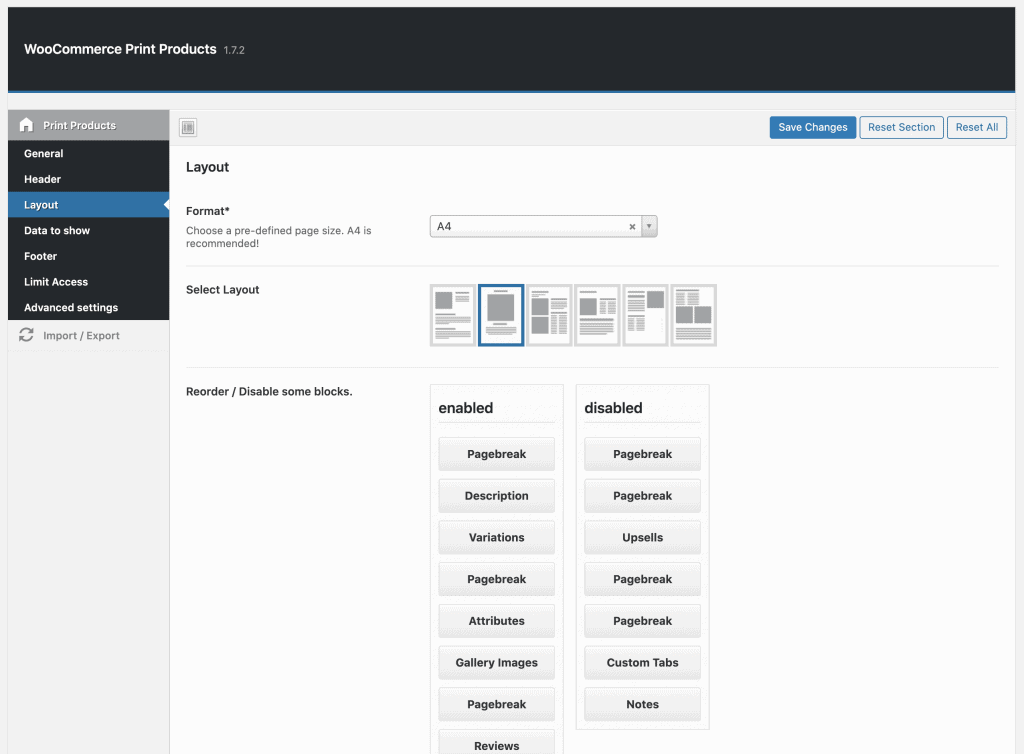 Champs personnalisés
Affichez les champs personnalisés comme vous le souhaitez
Textes supplémentaires
Ajoutez du texte supplémentaire avant ou après le catalogue
Soutien aux variations
Les variations sont prises en charge par deux styles différents
Exclut / Inclut
Inclure ou exclure des catégories de produits ou des produits individuels
Mise en page personnalisée possible
If you need a custom layout, you can either develop this using our filters orcontact us.
Limiter l'accès
Appliquer le mode catalogue uniquement sur des rôles utilisateurs spécifiques