Automatic Notifications
Send out automated push notifications when a WordPress post is updated or created on your site.
All Post types supported
All post types, either custom post types, pages, products etc are supported.
Custom notifications
Send out custom Notifications for Special Offers or Deals for example with ease.
WooCommerce support
Update customers when new products launched, prices drop or update shop managers / admins when products are low on stock or new orders are created.
Background Notifications
Even when users are not on your Website they will receive Push Notifications via Background Messaging system.
Style everything
Customize title, texts, icon or the notification click link URL as you like. You can also use all post data as variables with ease.
Push notifications for WordPress
Using push notifications is standard practice for top WordPress blogs and WooCommerce stores.
Simple, yet effective, push messages do everything that website newsletters once did. The only difference is that push notifications are delivered in real-time to on-site and off-site web users.
View Demo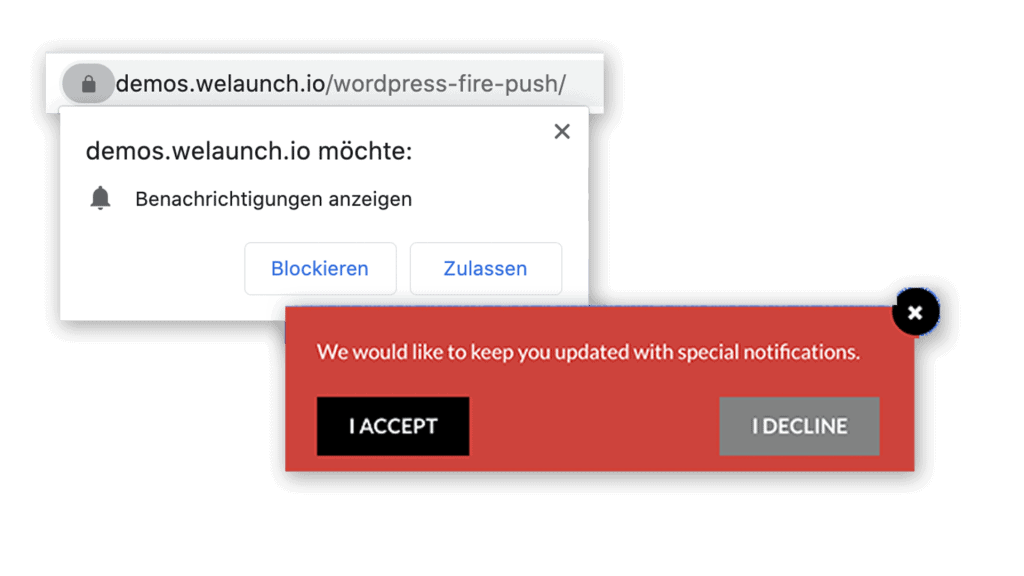 Increase Traffic & Streamlined Conversions
WordPress Fire Push is designed to drive traffic to blogs and WooCommerce product pages.
Considered the best WooCommerce plugin for direct sale conversions, push messages sent by Fire Push can be configured to suit a variety of use cases.
Push notifications can be customized to serve discounts and special offers to visitors browsing specific store pages
WordPress Fire Push notifications can be used to alert past visitors to new deals via their web browser
All push notifications can be customized to match existing blog and WooCommerce store branding
View Demo
Notify about new / discounted WooCommerce products
WordPress Fire Push comes complete with more features than any other push notification plugin.
In the case of WooCommerce store owners, push messages can be used to alert site admins every time a new order is placed. Much more importantly, push notifications can be used to inform store managers when they start running low on inventory.
View Demo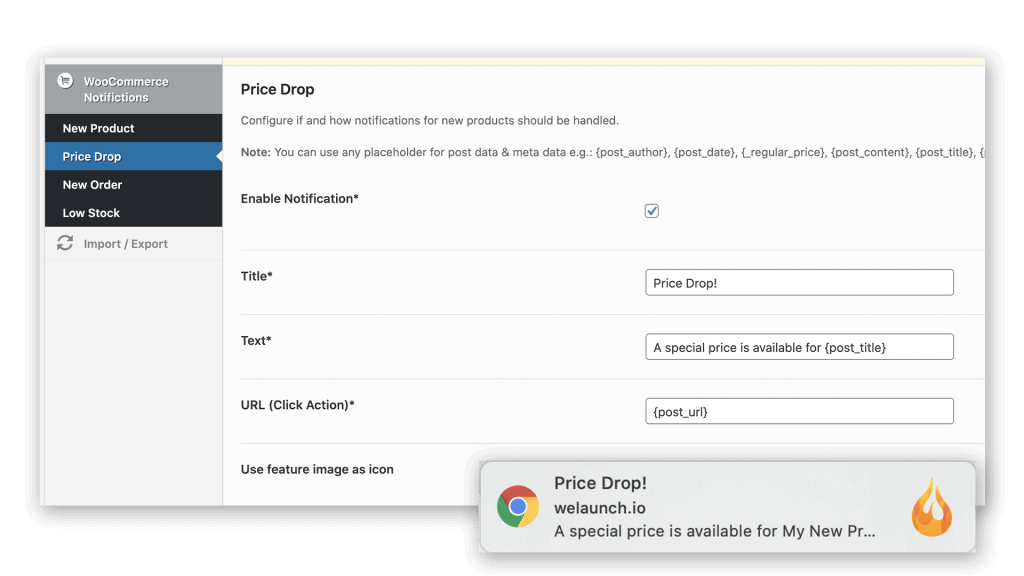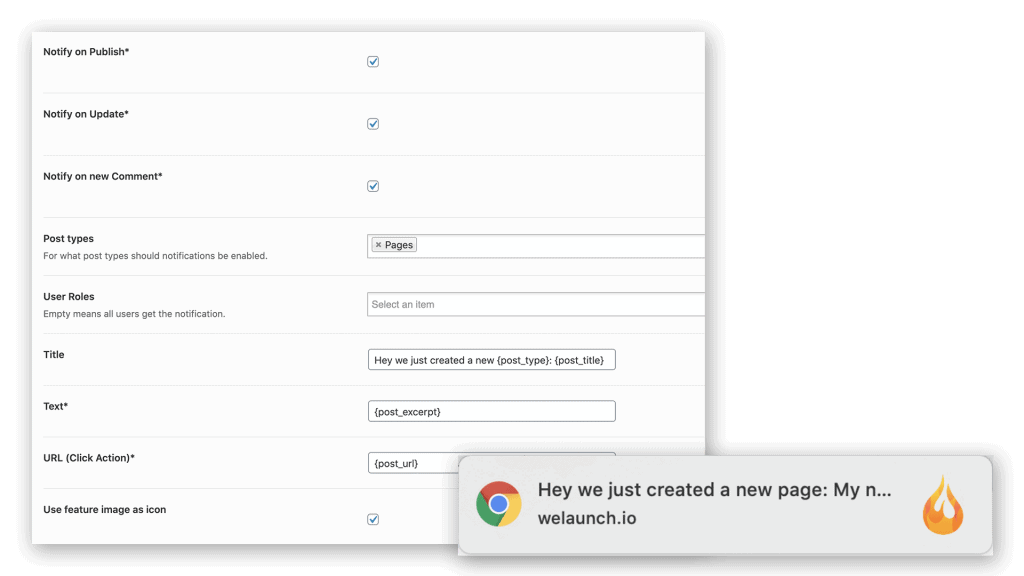 Custom & Automatic Push Messages
65% of web visitors will return to a website when push notifications are activated. However, few web users appreciate being bombarded by push messages 24/7. Fire Push, therefore, allows site admins to create custom push notifications for specific post types and site events.
All WordPress and Woocommerce post types are supported
When using Fire Push, site admins can choose to only automate notifications for specific post types
At any point in time, WooComerce store owners can create and send custom push notifications concerning specific posts, product listings, and/or last-minute special offers
WordPress Fire Push boosts conversions by alerting target audiences to new content and exclusive deals in real-time. Much more importantly, the WooCommerce plugin allows site admins to customize the look and feel of push messages.
Easy Site Integration & Customization
WordPress Fire Push integrates flawlessly with any WooCommerce store set up. Site admins can customize push notification icons and text. Even better, notifications can also be configured to feature specific page content and imagery.
View Admin Demo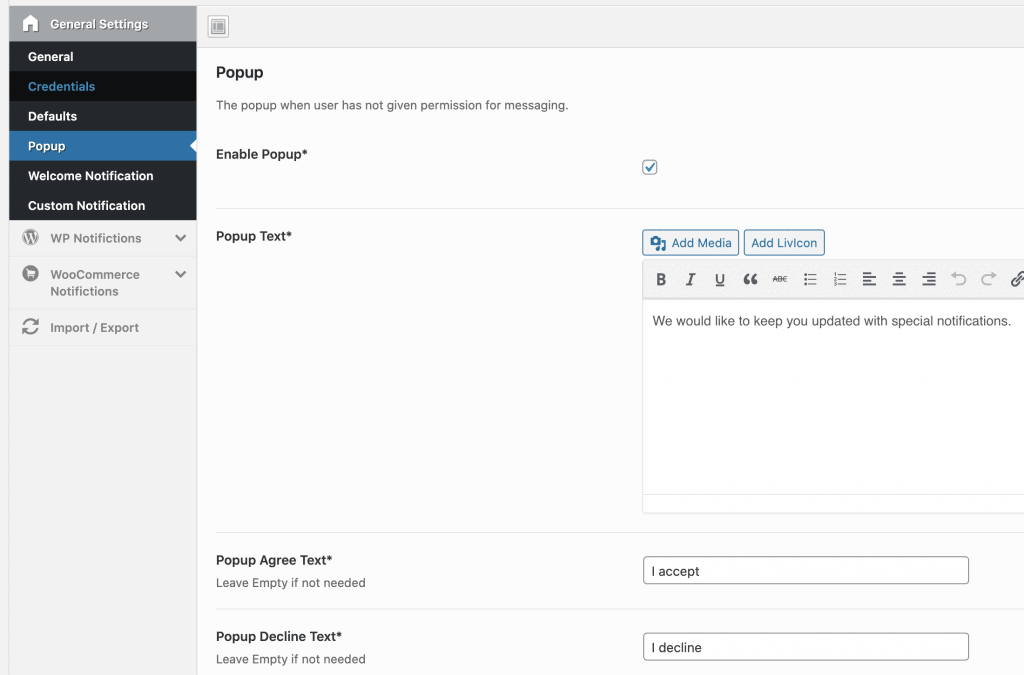 Full PC & Mobile Browser Support
80% of web users primarily use mobile devices to go online. WordPress Fire Push, therefore, uses Google's Firebase Cloud Messaging service to deliver push notifications.
By sending push messages across Firebase, site admins can rest assured that messages are fully supported by all popular desktop and mobile device browsers. Much more importantly, Android, iOS, and PC users can stay up to speed with new site events, regardless of their device or host operating system.
Example Use Cases
Some example how you can use our plugin to increase traffic and sales.
Send Notifications when …
new Blog Post was Published
Custom Post Type was Updated
Product was Created
Order was Created
Price Drop occurred
you want to announce a special Deal / Coupon
View Demo