Show All Variations at once
Turn your WooCommerce variation products into a table with one click.
Filter, Sort & More
Sort Variations, Filter by Attributes or search the complete table.
Export Table
Export the variations Table as CSV, Excel, PDF, Copy or Print.
Choose Data
Choose what Data you want to show and in what Order – SKU, Price, Description, Add to Cart Button, Attributes, Image and more.
Ex- / Include
Ex- or Include whole product categories or single products.
Limit Access
Limit access to variations tables for specific user roles.
WooCommerce Variations to Table Plugin
Products in WooCommerce stores often vary in size, style, and color. However, navigating between different product variations can be time-consuming. Thankfully, the new WooCommerce Variations Table plugin changes this.
View Demo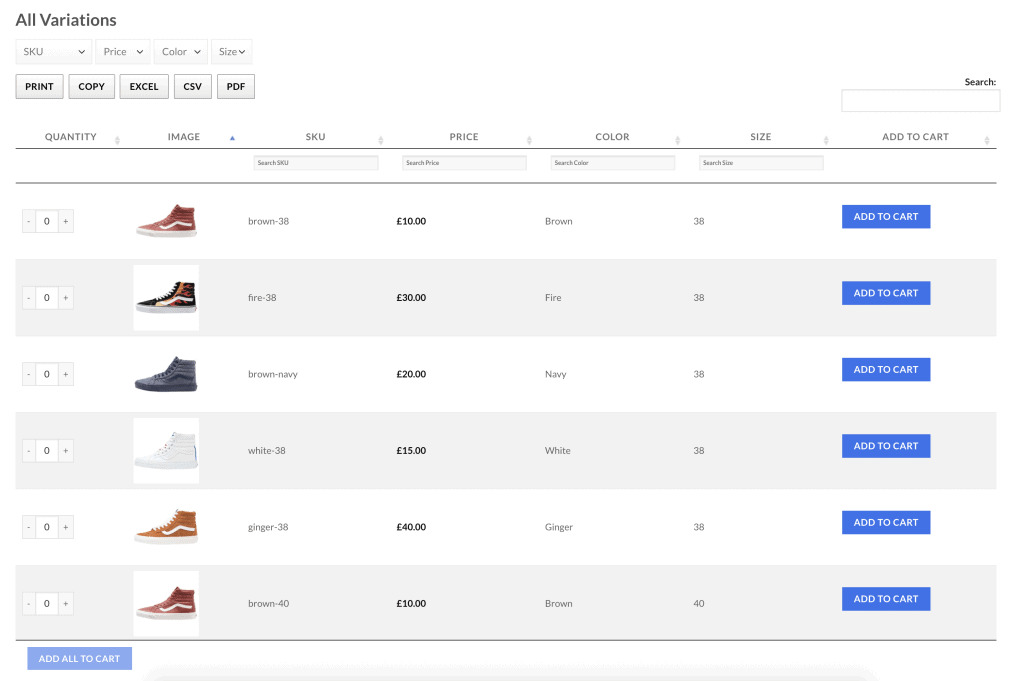 WooCommerce Table Variations Vs. Select Fields
In WooCommerce, product variations are filtered manually by selecting different select fields. The Woocommerce Variations Table plugin changes this by transforming all product variations into fast-loading responsive table entries.
Variation tables allow customers to quickly filter products by color, size, and current availability
Tables can be configured to display products from similar store categories
Store owners can choose what attributes to display in tables and in what order
View Demo
Easily Organize all
WooCommerce Product Attributes & Variations
With every WooComerce table, store owners specify what information should be displayed and in what order.
Tables can be configured to display different color, style, and price variations. Store owners can also specify how many items are currently in stock. Much more importantly, all product variations are accompanied by fast-loading images, order quantity fields, and add to cart buttons.
View Admin Demo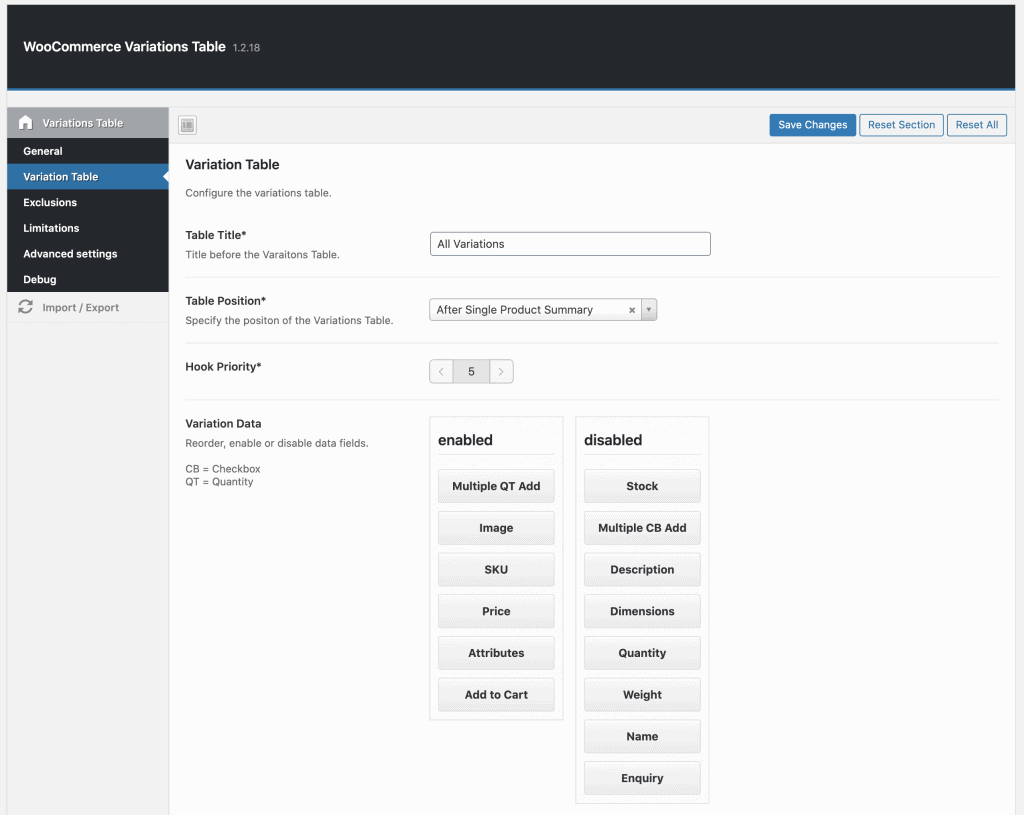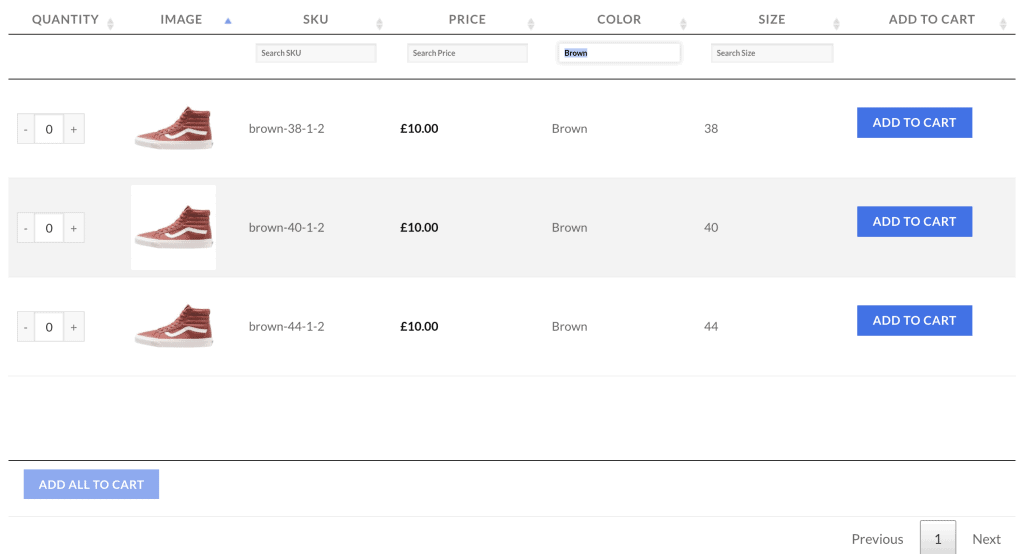 Faster Filtering for Smoother Shopping Experiences
Using select fields to filter through product variations can be tedious.
A customer might be delighted by a particular product. However, it can take several clicks to ascertain whether a product is available in a specific size, style, or color. Variations Tables changes this by allowing page visitors to filter products much faster.
Variation tables allow page visitors to filter products in seconds
Faster filtering results in lower page bounce rates and fewer abandoned shopping carts
Showing similar products in tables can help store owners upsell while giving customers more buying options
View Demo
Live Filtering & Easy Data Export
The WooCommerce Variations Table plugin uses live filtering and Ajax to asynchronously add items to shopping carts. Customers are, therefore, prevented from ordering items which might have just gone out of stock. Also, all table data is fully exportable in CSV, Excel, PDF, and direct Print format.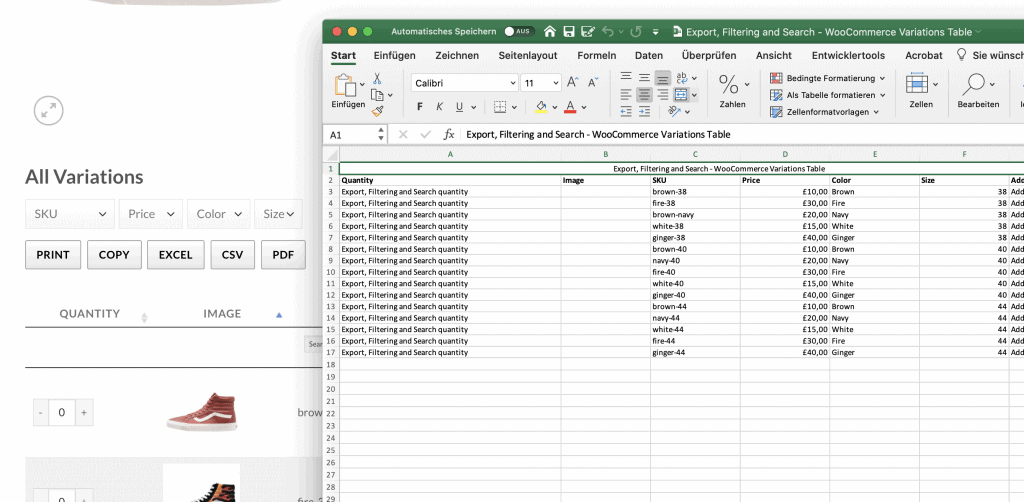 Limit Variations Table Access to Specific Users
As a WooCommerce store owner, you might cater to both individual and wholesale customers. The WooCommerce Variations Table plugin, therefore allows site admins to restrict table access to specific store users.
When access to tables is restricted, individual customers will be served standard product listing views. Wholesale customers, meanwhile, will be presented with tables which they can use to filter and order products on an individual or bulk basis.
View Admin Demo