Automatic Creation & Mail attachments
Automatically create PDF invoices for Woo Orders and attach the generated PDFs to every order email with ease.
Fully customizable
Change everything from layout, data, styling and more. Easily by also showing a preview of the order. Add a custom fixed header with Logo, text, pagenumber and more.
Invoice Numbers
Create your own custom Invoice Numbering, sequentiell, by date and more.
Automatic PDF Invoice Generator for WooCommerce
Woocommerce PDF Invoices is a fully featured automatic invoice generator
There are several significant benefits to using the PDF format when creating WooComerce store invoices. Fixed formatting ensures that invoice information is always clearly legible. This builds trust among customers. Namely, by facilitating streamlined accounting and easy referencing of order details.
View Demo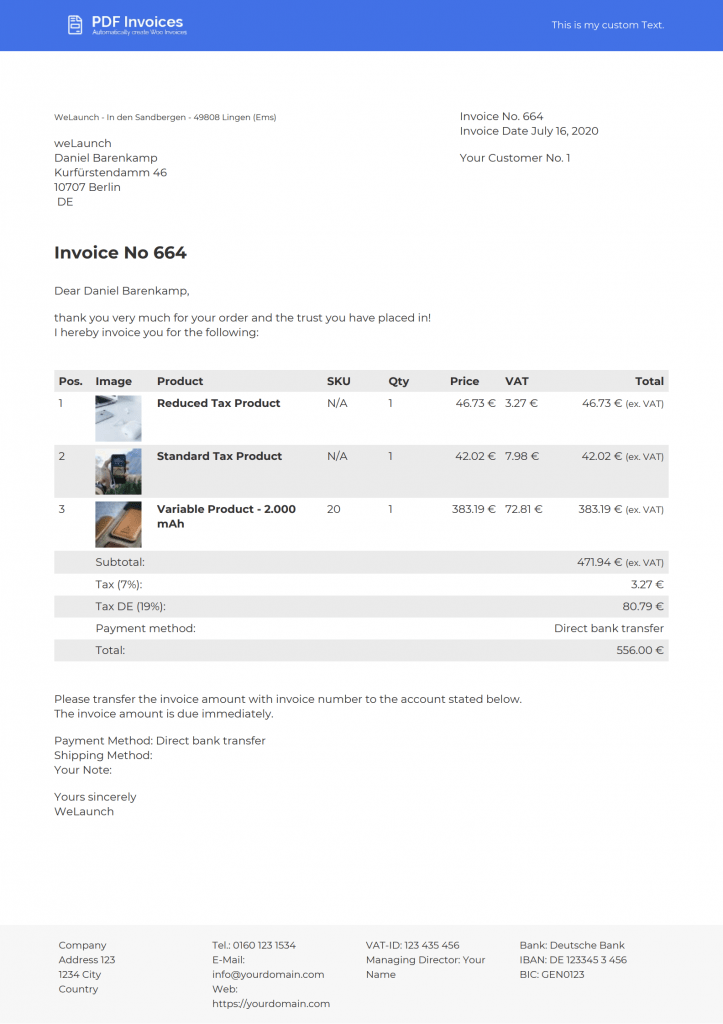 The Easy Way to Generate PDF Invoices in WooCommerce
The WooCommerce PDF Invoices plugin makes creating PDF invoices easy. After installation, WooCommerce store owners are presented with a simple, yet highly-intuitive back office area. From here, store managers can customize all appropriate invoice information.
WooCommerce invoice headers can feature custom logos and images
Company address details are editable in a dedicated WISIWYG area.
Custom intro and outro texts can be applied to different invoice types
A variety of layout and formatting options make creating branded invoices easy
WooCommerce PDF Invoices also supports editing of invoices post-purchase. This way, order information can be updated to reflect amended product, price, and customer details.
View Example PDF Invoice
Accurate & Automatic Invoice Generation
As an automatic invoice generator, WooCommerce PDF Invoices creates invoices as orders are processed. Invoice order numbers, pricing, tax, and other details, benefit from 100% accuracy. This helps WooCommerce store owners (and customers) streamline accounting and record keeping.
Invoices are generated and delivered automatically via email and direct download
As a WordPress invoice plugin, PDF Invoices works out of the box and integrates flawlessly with WordPress and WooCommerce
Generated invoices automatically detect store currencies and other key settings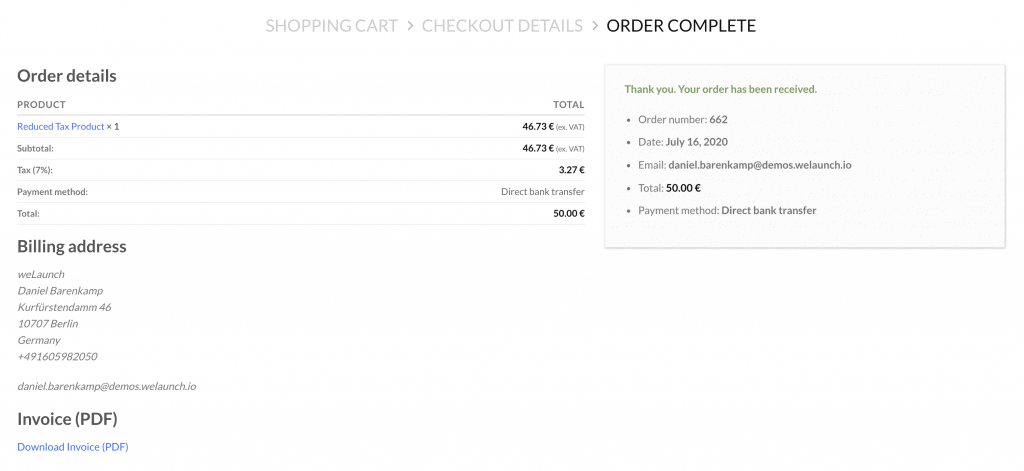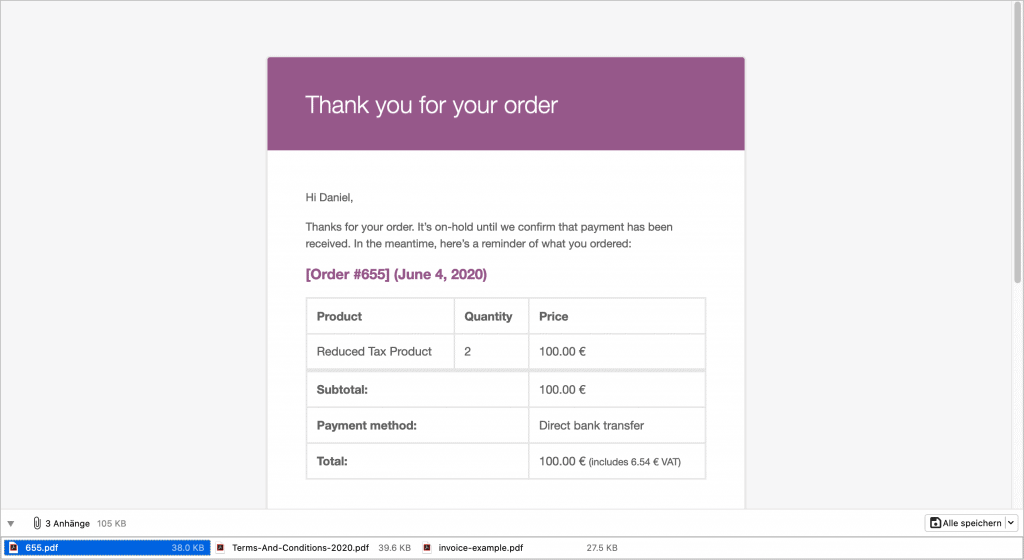 Attach Invoices Automatically to Emails
WooCommerce PDF Invoices can automatically attach generated invoices to customer order confirmation emails.
Store customers and administrators can also download invoices directly. For secure accounting, original invoice copies are stored securely and easily recalled. However, refunds, discounts, tax rates, and delivery address details, can still be applied post-purchase.
Fully Customizable
Ubiquitous formatting ensures that PDF invoice details are always clearly legible. (And compliant with modern accounting standards.) However, WooCommerce PDF Invoices also allows store owners to fully brand invoices.
Store owners can easily change invoice store logos and images
Custom padding options allow store owners to alter invoice layouts
Text color, size, and custom font options allow for easy customization of invoice dat
Header and footer styles and layouts are fully customizable
The WooCommerce PDF Invoice generator also comes equipped with out of the box default settings. This way, store owners can create custom invoice styles after install and revert to default options at any time.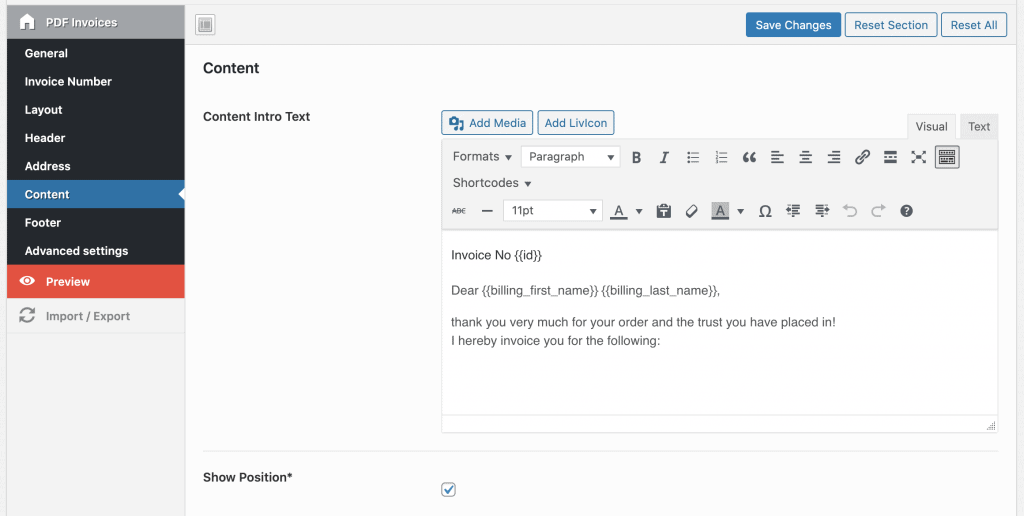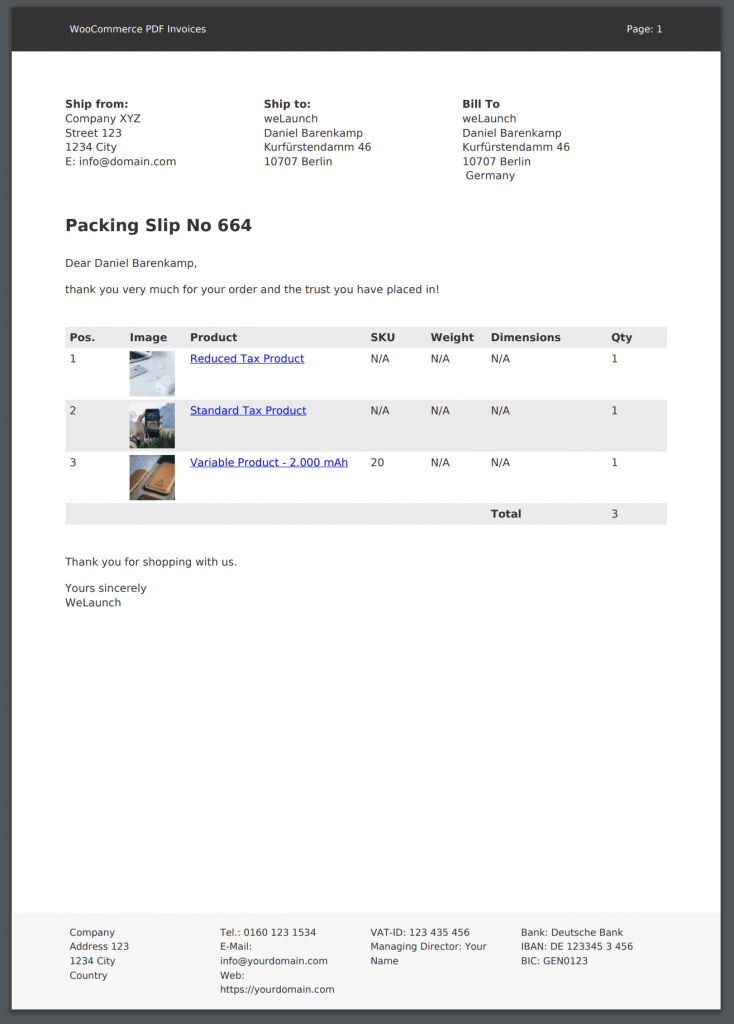 Packing Slips Generation
Beside invoices, our plugin can also create packing slips automatically. These can be attached to shop owner emails or downloaded from backend. Print and add them to your packed orders or give them to your logistics team.
Automatic Packing Slips Generator
Attach to shop owner Emails
Print with ease
Live Preview Invoices
While editing invoice layout and header options, WooCommerce store owners can view a live preview of finished invoices. This allows for easy customization. As a bonus, live previews can include real order data for guaranteed accuracy.
Easy Custom Content Creation
WooCommerce PDF Invoices compiles data from all order variables. Reduced tax, standard tax, and variable product price data, is organized into pricing tables and used to calculate total invoice values automatically.
As a bonus, the WooCommerce PDF invoice generator can also be configured to display custom intro and outro texts. Meanwhile, images and custom HTML can be used to further enhance invoice designs.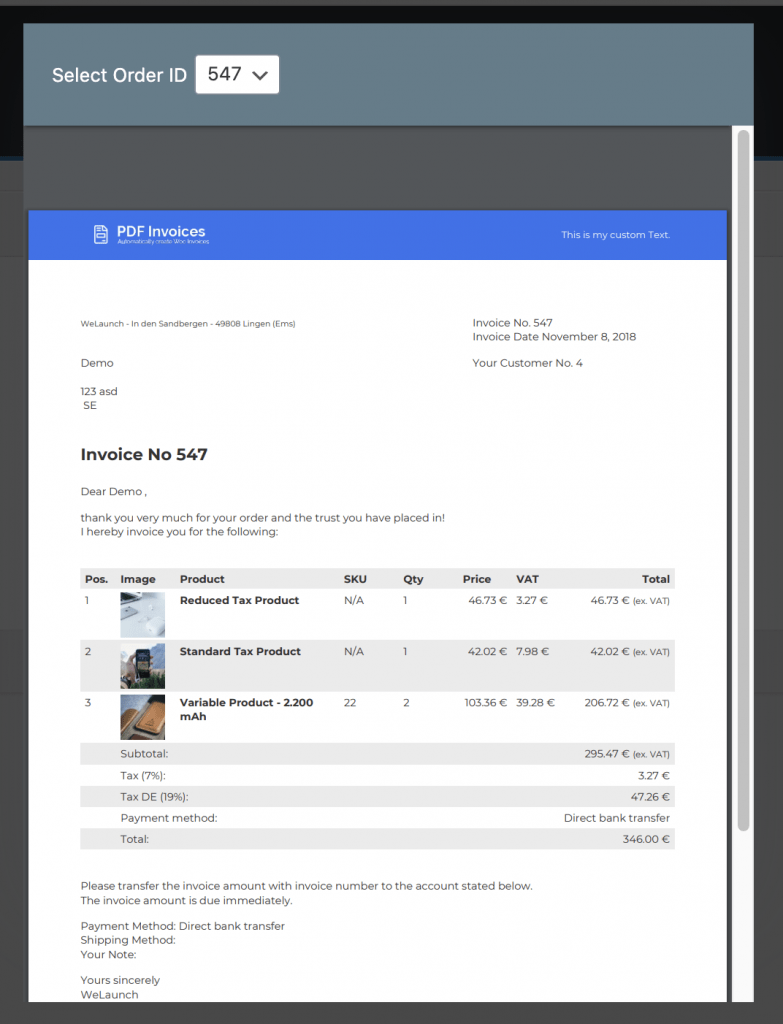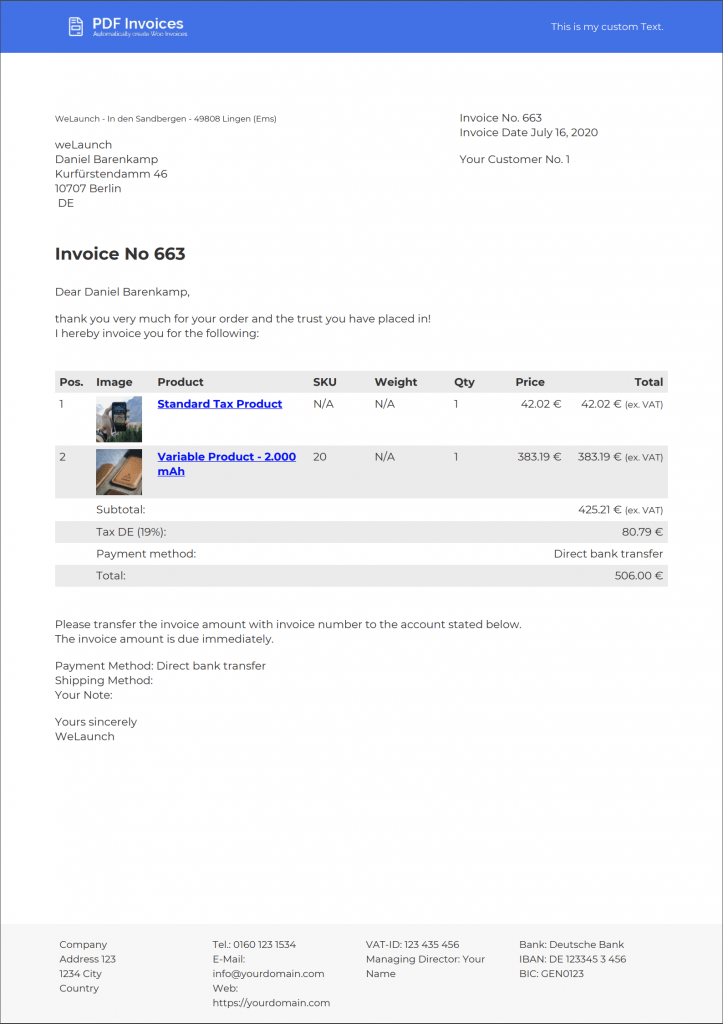 Custom Header & Footer
Adding a custom fixed header with (or without) a logo to an invoice is a fantastic way to boost store brand exposure. Custom headers help invoices stand out from those of generic competitors. Better yet, better brand visibility means that invoices can work as subtle marketing tools in their own right.
WooCommerce PDF Invoices allow store owners to configure header and footer colors
Logos and images can be used to decorate areas above important text fields
Store owners can choose from several different page numbering and text layout options
Header customization options are applied to all invoices simultaneously. This saves time styling and creates a fantastic impression on store customers
Bulk & Single Backend Download
Shop owners have it easy to download invoices or packing slips directly from wp-admin dashboard. Either by clicking on the download icons on the right or by using bulk actions to download multiple pdf invoices or slips.
Bulk download
Direct download