When you have correctly installed our WooCommerce Request Quote & Negotiation plugin, we can start setting it up. Open up the admin panel and you will see a few new navigation menus:
WooCommerce > Quote & Negotiation
WooCommerce > Settings > Emails > 3 New Quote Mail Templates
WooCommerce > Payments > Quote Request
If you can not see that menu make sure our weLaunch Framework plugin is installed! It is free.
See the video below how the plugin works.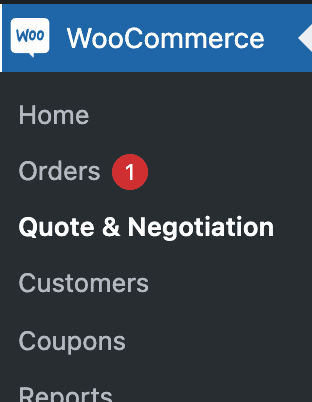 Enable our Plugin
To enable our WooCommerce Request Quote & Negotiation plugin simply go into our plugin settings. In the general section you will find a button to turn our extension on and off. 

Enquiry Button (add to Cart)
When you only use the quote system without any other payment methods it makes sense to rename the regular add to cart button. For example you can rename it to "add to quote basket". 

After enabling this option you will see the default WooCommerce add to cart button text will be replaced.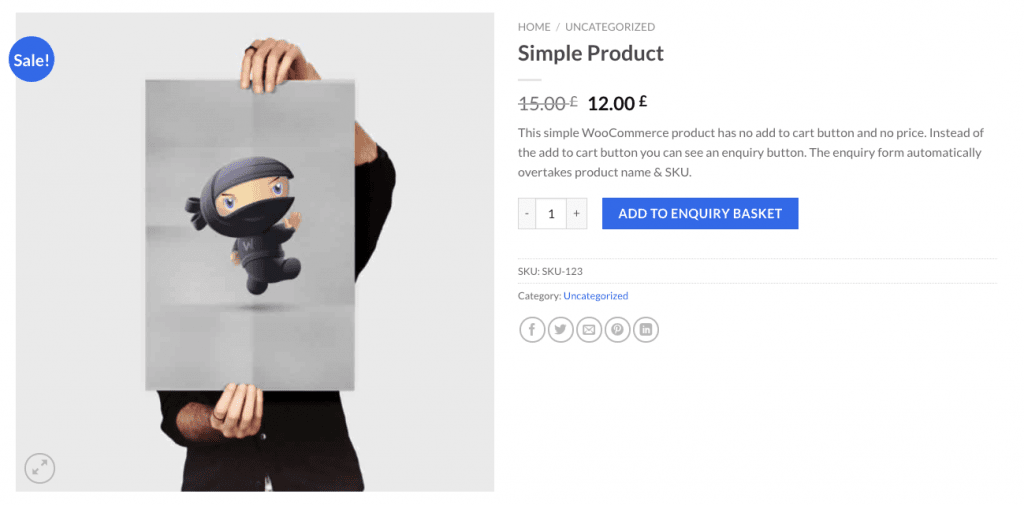 Texts & Email Settings
Our request quote & negotiation plugin contains 3 new built in WooCommerce emails:
New Quote
Quote Approved
Quote Declined
Each of these emails have own intro texts, which can be customized in our plugin settings: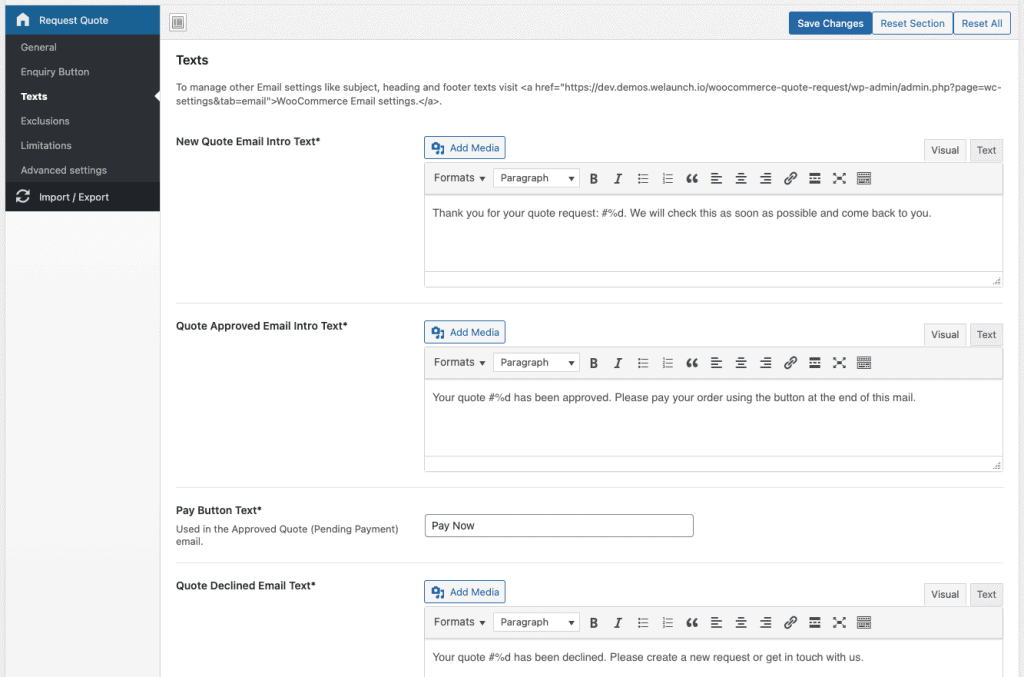 The other mail settings can be configured like regular WC Mails in Woocommerce Settings > Emails

Exclude Products, Categories or User Roles
If you want to exclude product categories or products from the quote system, you can do this directly in the plugin settings. Excluded products will not show the add to enquiry button nor can the request quote payment gateway be used.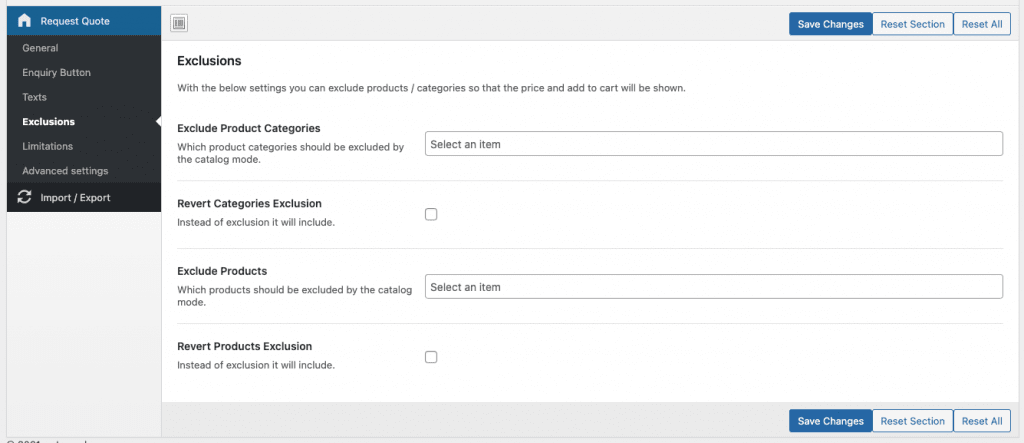 The same applies if you want to limit the quote system only to certain user roles or logged in / logged out users. For example when you only want to B2B logged in customers access to the quote negotiation plugin, this can be done here.

Configure the Quote Payment Gateway
Our plugin is the only one, that contains a built in quote request payment gateway in WooCommerce. This can be found directly in WooCommerce Settings > Payments. Here you can drag and drop it like regular gateways.

Moreover you are able to change the Payment Method name and the customer message. Here you should give your customers instructions how to negotiate the price.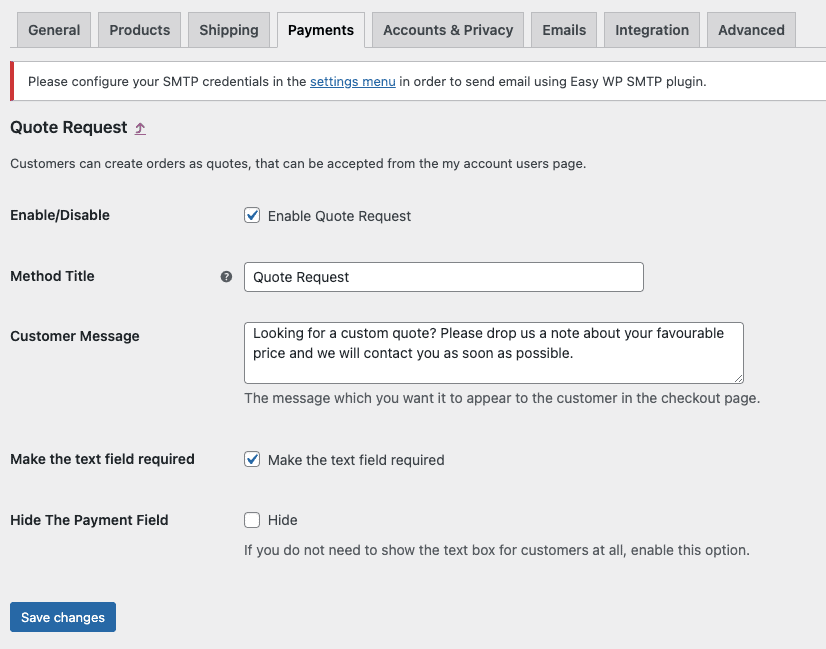 To see the payment method in action, you can visit your checkout page. In the payment methods lists, you should then see a new item called "quote request".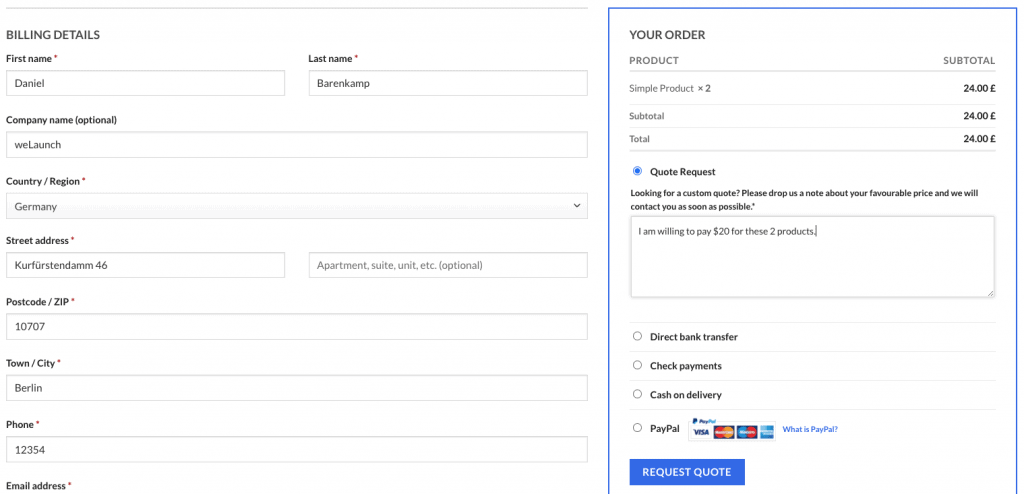 How the Quote & Negotiation System works