Preise ausblenden
Entfernen Sie Preise aus Ihren Produkten und Produktkategorien.
Zum Warenkorb hinzufügen entfernen
Ersetzen Sie die Schaltfläche "In den Warenkorb legen" durch die Schaltfläche "Weiterlesen.
Anfrage-Formular
Ein Anfrageformular modal auf Ihren einzelnen Produktseiten anzeigen.
Anfrage-Wagen
Ersetzen Sie die Standardfunktionalität des WooCommerce-Warenkorbs durch einen Anfragekorb.
Ausschließen/Einschließen
Ausschließen oder Einschließen einzelner Produkte oder kompletter Produktkategorien innerhalb der Plugin-Einstellungen.
Themen-Unterstützung
Unser Plugin unterstützt alle WooCommerce-konformen Themen und Produkttypen (e.g. Variationen).
Verwandeln Sie Ihren Shop in einen Katalog
Hat Ihr WooCommerce-Geschäft Spezialprodukte oder Produkte, die möglicherweise nur begrenzt verfügbar sind, auf Lager?
WooCommerce-Shop-Kunden direkt in den Einkaufswagen zu leiten, ist für manche Produktanbieter nicht immer die beste Option. Thankfully,with the WooCommerce Produkt-Katalog Mode plugin, stores can be transformed into stylish, easy to navigate, and fully themeable product catalogs.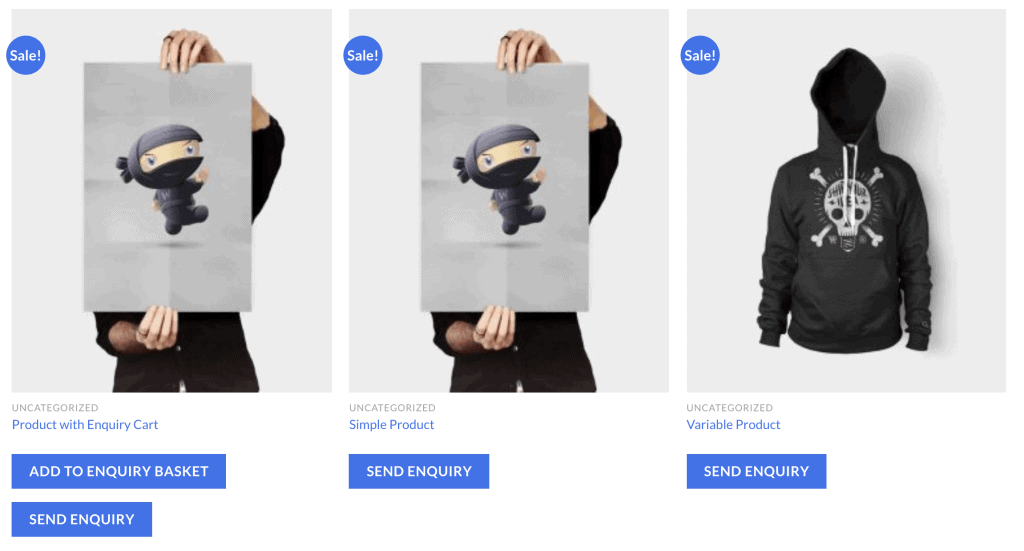 Preise entfernen und durch "In den Warenkorb legen" mit "Anfrage" ersetzen
Anstelle von statischen Produktauflistungen und Links zu Einkaufswagen kann das WooCommerce-Katalog-Plugin verwendet werden, um Produktpreise auszublenden und den Produktauflistungen die Funktionalität eines direkten Anfrageformulars hinzuzufügen.
Natürlich mag es nicht immer im Interesse der Ladenbesitzer sein, die Produktpreise zu entfernen und/oder die Funktion "Direkt zum Einkaufswagen" über alle Produktlisten hinweg zu nutzen. Mit dem WooCommerce-Produktkatalogmodus-Plugin können Benutzer daher verschiedene Produktkategorien angeben, die im Katalogmodus angezeigt werden sollen, während andere Shop-Artikel direkt gekauft werden können.
Demo ansehen
Produktpreise ausblenden
Nach der Installation und Aktivierung des WooCommerce-Plugins für den Produktkatalogmodus können Ladenbesitzer auf einfache Weise Produktkategorien auswählen, aus denen sie Preisdaten entfernen möchten. Als zusätzlichen Bonus können die Site-Administratoren auch verschiedene Gruppen angeben, für die unterschiedliche Einstellungen gelten sollen.
Verkaufen Sie als Besitzer eines WooCommerce-Geschäfts Produkte sowohl an Einzelpersonen als auch an Großhändler von Waren? Wenn ja, kann das WooCommerce-Produktkatalog-Plugin verwendet werden, um Ihr reguläres Einzelhandelsgeschäft für nicht registrierte Website-Besucher anzuzeigen. Registrierten Benutzern wie Großhändlern werden unterdessen Katalogseiten angezeigt, auf denen sowohl die Produktpreise als auch die Schaltflächen für Direktbestellungen frei sind.
Demo ansehen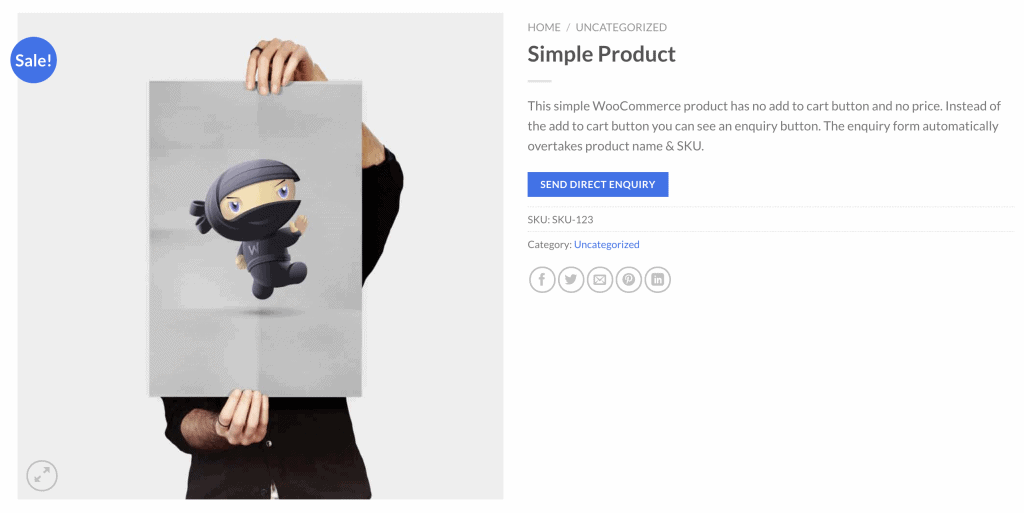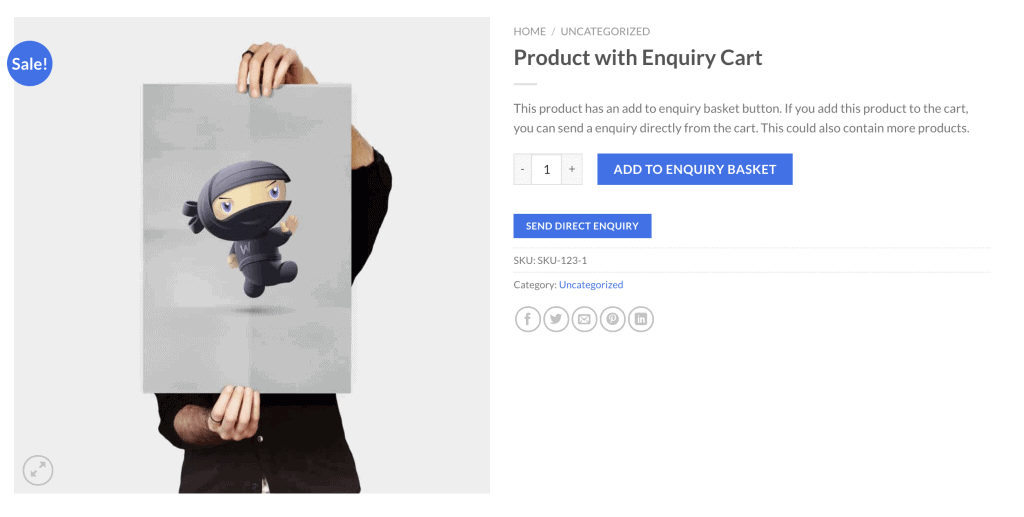 Direkte oder Korb-Anfrage
Nach der Aktivierung des WooCommerce-Produktkatalog-Plugins haben die Besitzer von WooCommerce-Geschäften die Möglichkeit, die Optionen 'In den Warenkorb' vollständig von den Produktlistenseiten zu entfernen. Nach dem Umzug werden die Kunden der Geschäfte stattdessen die Möglichkeit haben, direkte Anfragen zu Produktpreisen und Verfügbarkeit an die Geschäftsinhaber zu richten.
Ideal für Warengroßhändler und Verkäufer von Spezialprodukten, vollständig anpassbare Direktanfrage-Buttons ermöglichen es den Ladenbesitzern, die Artikelpreise auf Kundenbasis festzulegen.
Demo ansehen
Produkt-Katalog
Anfrage-Formular Functionality
Just like with your regular WooCommerce store set up, using WooCommerce Produkt-Katalog Mode allows site visitors to peruse product listings and click through to individual product pages.Nachdem Sie sich zu den Produktseiten durchgeklickt haben, werden Ihre Kunden jedoch aufgefordert, ein vollständig themenbezogenes Direktanfrageformular auszufüllen, anstatt Artikel direkt zu bestellen.
Mit Einstellungen, die entweder für die gesamte Website oder für bestimmte Produktkategorien gelten, können die Besitzer von WooCommerce-Geschäften wählen, welche Produkte sie nur per Direktanfrage zur Verfügung stellen möchten und welche nicht.
Demo ansehen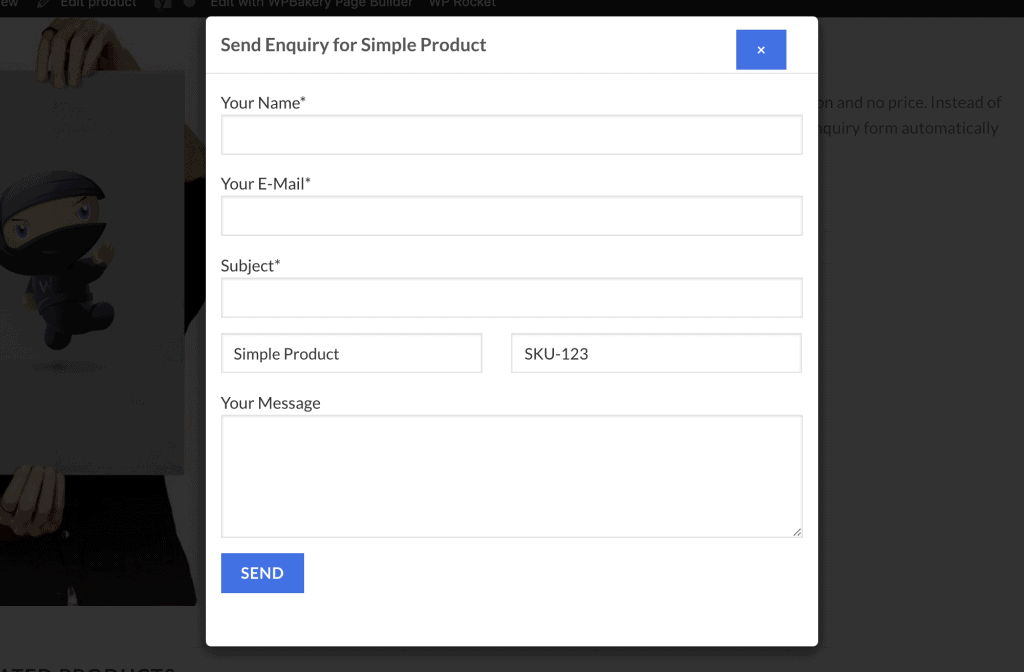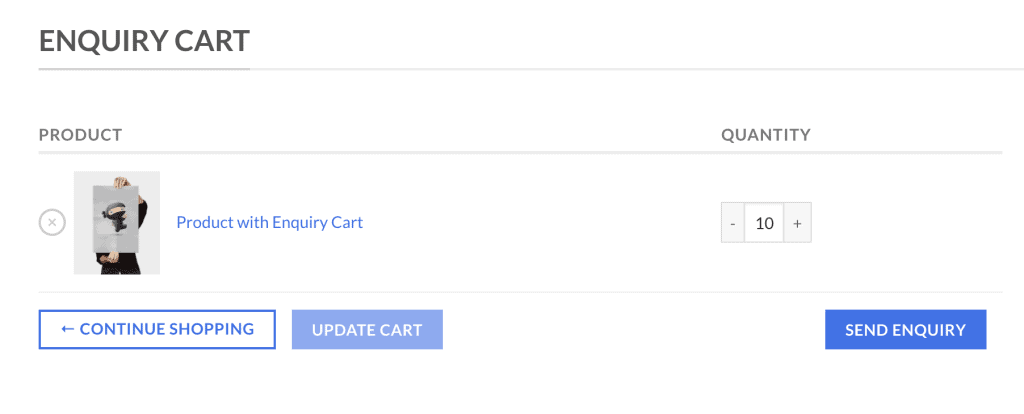 Anfrage-Wagen
Kunden können auch eine Anfrage für mehrere Artikel anfordern, indem sie unsere Anfragekorb-Funktionalität nutzen. Unser Plugin ersetzt einfach den bestehenden WooCommerce-Warenkorb. Es blendet die Checkout-Funktionalitäten aus und fügt eine Schaltfläche zum Senden einer Anfrage hinzu.
Demo ansehen
Bedienfeld für einfache Einstellungen /
Alle Formular-Plugins werden unterstützt
Mehr als 100 Optionen in Ihrem Einstellungsfenster machen es Ihnen leicht, unser Plugin an Ihre Bedürfnisse anzupassen. Aktivieren oder deaktivieren Sie Funktionalitäten mit Leichtigkeit, ändern Sie Texte und Stilelemente wie Sie wollen.
Für die Anfragefunktionalität können Sie jedes Kontaktformular-Plugin verwenden. Sei es CF7, Gravitationsformen, Quoform oder was auch immer – alle werden unterstützt!
Admin-Demo anzeigen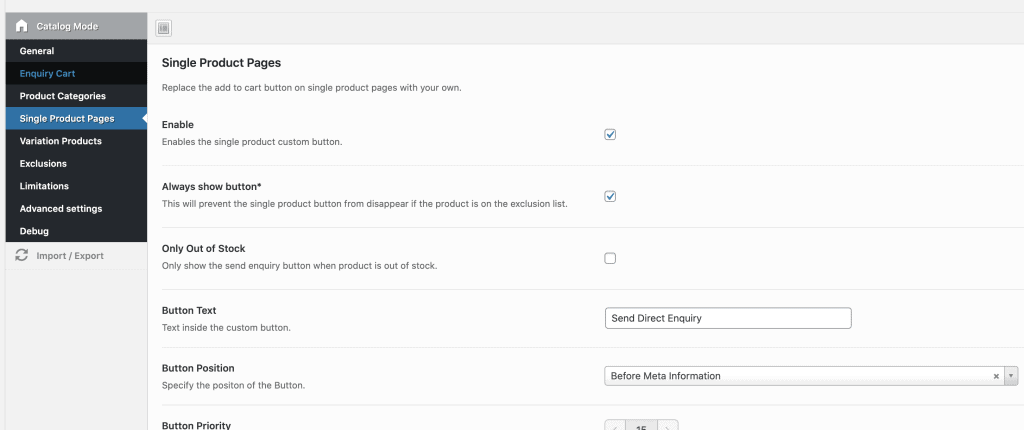 Unterstützung von Variationen
Variationen werden mit 2 verschiedenen Stilen unterstützt.
Länder ausschließen
Sie können auch eine Liste von Ländern ausschließen.
Zugang beschränken
Wenden Sie den Katalogmodus nur auf bestimmte Benutzerrollen an.
Kostenlose Updates
Einmal gekauft, erhalten Sie unbegrenzte zukünftige Updates.