Settings Menu
In order to setup the plugin you should be able to see the Cart PDF menu under WooCommerce in your admin panel. If you can not see this menu make sure the Redux Framework plugin is installed and activated.
Enable WooCommerce Cart PDF
In the general settings part you can enable / disable our cart PDF plugin and choose the button position and text.

PDF Layout Settings
If you want to set a different PDF layout or format you will find multiple options here. Furthermore you can set here your font size, family and padding. Each odd or even row can also have a custom background / text color, that you can set here.
Header Settings
A static header, that will apply on all pages can be enabled if you like. Here you can show 1, 2 or 3 columns with custom information. For example a logo, a custom text, the export information or page number.
Data to Show in the Cart PDF
Each data column inside the cart PDF can be hidden / shown, have a custom width and an own title. The following data objects are available to export:
Position
Image
Product
SKU
Weight
Dimensions
Qty
Price
Total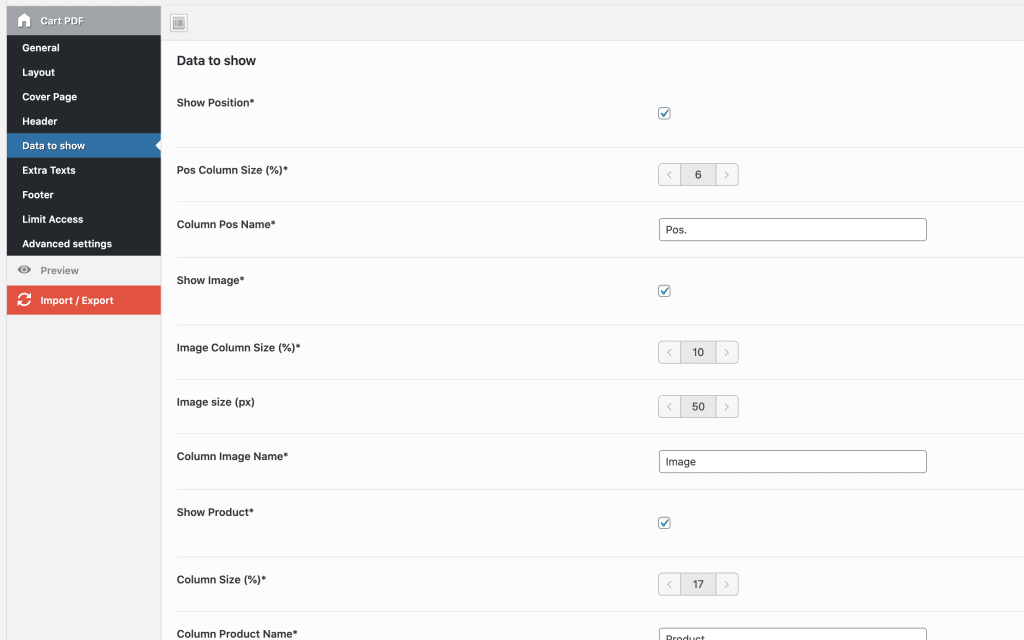 Extra texts
With an available WYSIWYG editor you can add custom texts before and after the items.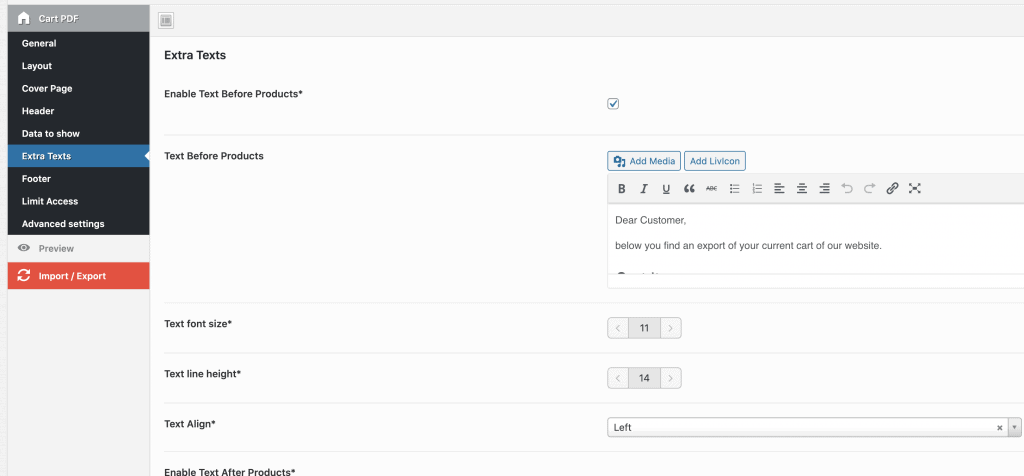 Same as the cart header you can also set a static cart pdf footer. This can contain of max 4 columns including custom texts.
Limit Access
If you want you can also use the limit access functionality to hide the cart PDF export button for certain user roles.
Advanced Settings
If you want to add custom CSS to your cart PDF this can be done here. Enable the debug mode, add custom CSS and see what HTML tags you can use.
Usage / Download Cart PDF
The cart PDF can be downloaded in the WooCommerce cart page. You will find a button there to export all cart items.